"Babar should have accepted PCB offer of retaining Test captaincy," former cricketer says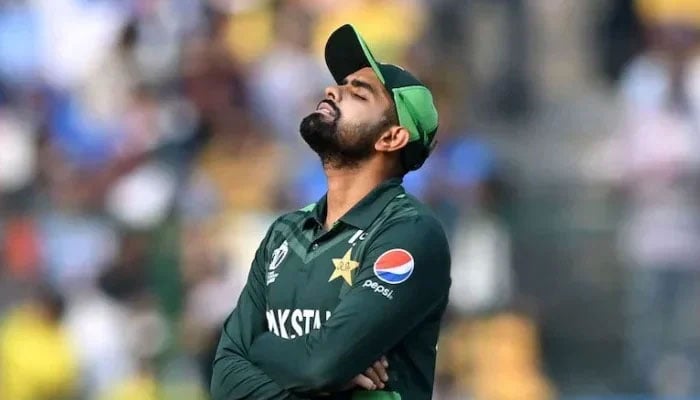 With Pakistan's right-hand batter Babar Azam stepping down as the Green Shirts' skipper in all three formats, the 29-year-old has received flak from ex-cricketer Sikander Bakht for arm-twisting the board to retain captaincy in all three formats.
Babar — appointed as white-ball captain in 2019 and as Test skipper in 2020 — stepped down as the Green Shirts' skipper in all three formats on Wednesday following a meeting with Pakistan Cricket Board (PCB) Management Committee Chairman Zaka Ashraf in Lahore.
The now-former skipper has been facing severe criticism for several months after Pakistan failed to perform in the Asia Cup and continued the same momentum into the World Cup — where they crashed out before reaching the semis.
Speaking to Geo News, Bakht, while commenting on Babar's resignation as captain, said that India's Sachin Tendulkar and Virat Kohli also stepped down from captaincy to focus on their performance as a player.
"This happens in the world, nothing new has happened here," he added.
"Why are we creating a fuss about Babar's stance of wanting to be captain in all three formats or none at all," he said while expressing his views on reports that the 29-year-old batter had told the board that he would step down from the captaincy of all three formats if he is made the national side's skipper for one format.
You cannot dictate, this is Pakistan's national team which represents 250 million people, he added.
The former cricketer was of the view that Babar should've accepted the PCB's offer of retaining Test team captaincy. "Australia's tour is going to be very difficult, if you send a new captain will struggle [there]."
Earlier, Babar took to social media to announce his resignation as Pakistan's captain from all three formats.
"Today, I am stepping down as the captain of Pakistan in all formats. It's a difficult decision but I feel it is [the] right time for this call," Babar said in a statement on X, formerly Twitter.
"I will continue to represent Pakistan as a player in all three formats. I am here to support the new captain and the team with my experience and dedication," he added.
Meanwhile, the PCB has not revealed the names of potential candidates who will replace the 29-year-old, but Shan Masood is likely to be appointed as a captain for the Australia Tour, while Shaheen Shah Afridi will take the realm in the T20I series against New Zealand.