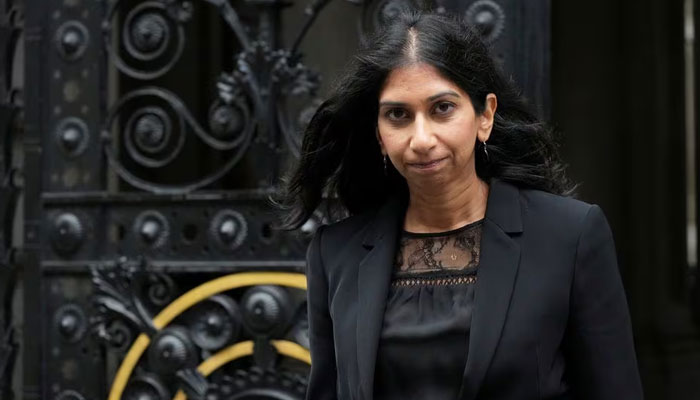 LONDON: UK Prime Minister Rishi Sunak has sacked Suella Braverman as home secretary after she was blamed for encouraging tensions and racial hate over Armistice Day protests and saying London police favoured left-wing pro-Palestine protesters – including fake news and unverified attacks on Pakistan men in the country.
Leading up to her sacking, Braverman angered a large section of the Labour Party, Muslim groups, left-wing groups including Jews, migrant groups and the moderate sections of her party, through her vile statements and deliberate provocations to appeal to the hard-right groups within the ruling Conservative party and to extremists who are against immigrants and left-wing politics.
She openly defied PM Sunak when she refused to accept changes made to her article published last week in The Times and chose to get her article published as she wanted it to be, lambasting the Metropolitan Police and encouraging far-right groups who gathered in London on Saturday and attacked the police. That article is the main trigger behind her humiliating sacking.
She claimed in the article there was "a perception that senior police officers play favourites when it comes to protesters" and were tougher on right-wing extremists than pro-Palestinian "mobs". 
The article also likened demonstrations calling for a ceasefire in Gaza to marches in Northern Ireland, which are mainly done by unionists. She also described Muslims and others marching for peace in Palestine as "hate marchers" and Hamas supporters.
Despite clear evidence that Islamophobia has increased and Muslims are under attack, she did everything to not support the Muslim community and issued statements which singled them out. She did this all, it's believed, to run for the party leadership.
On Monday morning, PM Sunak sacked her.
Braverman's dismissal follows weeks of controversy in which she followed her hard-right policy agenda and made a series of controversial statements, including describing homelessness as a "lifestyle choice".
She has made history by becoming the first home secretary in UK history by being forced out of the same job in little more than a year. Liz Truss ordered her to resign in October last year after weeks in the job, for sending confidential information to an MP from a private email address which was in breach of the ministerial code.
Braverman was blamed by police and Labour for helping inflame tensions resulting in far-right groups battling police near the Cenotaph on Saturday when hundreds of hard-right activists attacked the police.
She was widely blamed for the violence by the whole Labour Party, Muslim and left groups and commentators and almost everyone called for her sacking for stoking tensions. She campaigned against pro-Palestine marchers in general but it is widely believed that her real targets were British Muslims and left groups who supported Palestine's freedom.
It's PM Rishi Sunak who sacked her for his reasons that she openly defied and challenged his authority as the PM.
Ironically, the 43-year-old anti-immigrant politician is the child of immigrant parents. She wants to deport immigrants and jail them abroad.
Braverman was born Sue-Ellen Fernandes in Harrow, north-west London, as the only child of Christie Fernandes, a Kenyan of Christian Goan origin, and Uma Fernandes, a Mauritian of Indian origin, who had both arrived in the UK in the 1960s.
Named after Sue Ellen Ewing, the leading female character in the 1980s US television drama Dallas, Braverman shortened her name after teachers started to call her Suella. She attended the fee-paying Heathfield School in outer London on a partial scholarship. 
Braverman studied law at Queens' College, Cambridge, and became president of the university Conservative Association. She studied also for two years in France at the Sorbonne. She practised as a barrister both in the UK and the US before joining politics full-time.
She lost her first election in 2005 but made it to the Commons in 2015. In 2018, under the then-prime minister Theresa May, she became a junior Brexit minister, before rising under Boris Johnson, May's successor, to her first cabinet job as attorney general, just two years later. 
She entered parliament as Suella Fernandes but changed her surname to Braverman in 2018 after marrying Rael Braverman, a manager at Mercedes-Benz. She has described her husband as a "proud Jew and Zionist".
"My husband is a proud Jew and Zionist. He's lived in Israel. We have close family members who serve in the IDF," she told the Jewish Chronicle in a recent interview
She has been at the centre of controversies all along.
Market Bill
As attorney general, Suella Braverman drew criticism from the legal profession for backing the Internal Market Bill, which was described as breaking international law in a "limited and specific way". Braverman remained a staunch supporter of the bill, leading to accusations that she had sacrificed the UK's reputation and put the Good Friday Agreement at risk.
Deportations dream
Braverman has been a major proponent of the government's plans to deport asylum seekers to Rwanda if they cross the Channel in small boats.
The policy has attracted widespread condemnation from human rights groups, and Braverman was criticised after telling an event at the 2022 Tory conference that it was her "dream" to deport people to Rwanda.
India deal
A major trade deal between the UK and India was reported to have been "on the verge of collapse" after Braverman expressed "reservations" about the possibility of allowing more immigration from India and said there was a problem with Indian citizens overstaying visas. A government spokesperson said the UK and India enjoyed a close and positive relationship.
Security breach
Braverman was effectively sacked as home secretary towards the end of Liz Truss's premiership in October 2022 after it emerged she had leaked confidential cabinet papers to right-wing backbencher John Hayes. 
An investigation found she had sent confidential documents to her personal email address on several occasions as home secretary, in addition to leaking a draft ministerial statement to John. Her return to government days later, when she was reappointed by Rishi Sunak, reignited the row but Braverman survived.
Migrant 'invasion'
Shortly after her return to government, Braverman again courted controversy by describing the arrival of asylum seekers on the south coast as an "invasion".
Her comments came days after a man threw firebombs at a migrant processing centre in Kent, and migrant support groups likened her words to language used by far-right figures. She was confronted over her comments by Holocaust survivor Joan Salter, but Braverman said she would not apologise "for the language that I have used to demonstrate the scale of the problem".
Grooming gangs article
In a comment piece in the Daily Mail in April 2023, Braverman claimed child grooming gangs in the UK were "almost all British-Pakistani". Muslim groups, medical bodies and others accused her of "amplifying far-right narratives" about British-Pakistani men, but she stood by her comments in a follow-up article for The Spectator.
In October, regulator the Independent Press Standards Organisation found that the claim had been "significantly misleading" as the Home Office's research had concluded that offenders were mostly from white backgrounds.
Driving awareness course
In May, PM Sunak faced calls to launch an inquiry into Braverman over claims she breached the ministerial code by asking civil servants to arrange a private driving awareness course for her after she was caught speeding in 2022. 
The prime minister decided not to launch an investigation after consulting his ethics adviser, concluding that Braverman's actions did not amount to a breach of the code even if "a better course of action could have been taken to avoid giving rise to the perception of impropriety".
Asylum seekers 'pretending to be gay'
In September, Suella Braverman drew outrage from LGBT+ groups after claiming there were "many instances" where asylum seekers had pretended to be homosexual or transgender to "game the system" and get "special treatment".
She also said being a victim of discrimination on LGBT+ grounds should not be enough to qualify for asylum.
Human rights activists and prominent figures spoke out against her comments, with Elton John saying Braverman risked "further legitimising hate and violence" against LGBT+ people.
Multiculturalism a 'failure'
In a speech on migration in the US in September, Braverman said multiculturalism in the UK had "failed" and threatened security.
PM Sunak distanced himself from her comments which some commentators regarded as part of a pitch for the Conservative leadership should the prime minister lead his party to defeat at the next election.
Homelessness a 'lifestyle choice'
Earlier this month, homelessness charities criticised Braverman for reported plans to prevent them from giving tents to rough sleepers and claiming homelessness was a "lifestyle choice".
The proposals did not appear in Tuesday's King's Speech, but the PM has not ruled out including them in a wider Criminal Justice Bill.
Police 'playing favourites'
Amid multiple pro-Palestinian marches in the UK and concern about the use of antisemitic language, Braverman accused police of "playing favourites" by tolerating the demonstrations while using stronger tactics against right-wing protests.
Downing Street said it had not approved the comments, which were described by some as "divisive" and "inflammatory" and led to renewed calls for her to be dismissed.
She was sacked in a cabinet reshuffle the following week.
What's next?
It's understood Suella Braverman will try to woo the hard-right in the Tory party to choose her as the next Tory leader but her statements of the past will haunt her as it's her ruthless ambitions that have brought her to this level of controversy and division.