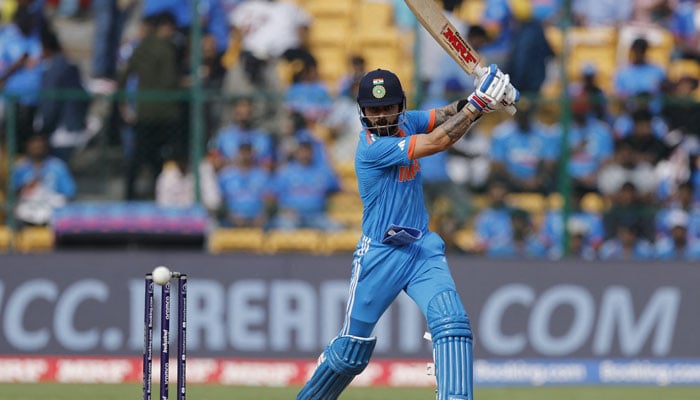 There can be few more exciting sights in cricket than watching Indian maestro Virat Kohli bat at his best and whenever he does, the spectators, especially in his homeland, are on their feet.
He has reached a stage that others can only dream of. He is the best batsman of the modern era in all formats of the game.
He is breaking records and setting new trends of classical batting with every series. He is always ready to perform against any opponent and anywhere in the world.
After the retirement of Sachin Tendulkar, it was assumed that the replacement of the Little Master would take a long time. But Kohli filled in the space very quickly and efficiently.
Statistically, Kohli is ahead of the Little Master. In recent times, India have won most of their matches, especially one-day and Twenty20, due to their solid and long batting line-up and Kohli is the backbone of it.
Former Indian captain MS Dhoni thinks that Kohli and their current team will win more matches than him in all the formats and that the team will rewrite history and become the most successful Indian team.
Former Indian captain Sourav Ganguly rates Kohli better than Sachin as far as chasing targets is concerned.
Former India captain Sunil Gavaskar once said: "To become a good player, you need talent, but to become a great player, you need an attitude like Virat Kohli."
During a World Cup game between India and South Africa, Kohli celebrated his 35th birthday by scoring his 49th ODI century, equalling Sachin's record.
Interestingly, Sachin too had got a ton on his 25th birthday — on April 24, 1998 — against Australia in Sharjah. Kohli took only 15 years to get to 49 hundreds, while Tendulkar's ODI career spanned 22 years.
Kohli has hit 27 centuries while chasing, out of which India have won 23 matches. On the other hand, Tendulkar had 17 centuries while batting second.
India won only 50.54% of matches when Tendulkar played, while it was 61.59 when Kohli was in the team. Only 33 of Tendulkar's 49 hundreds came in wins, while Kohli has 41 centuries in victories.
Kohli's overall ODI average is 58.48 in 289 appearances, but while chasing his average goes up to 65.49 and rises to 90.40 in successful chases.
Tendulkar's centuries came against 11 different teams, with 44 against nine full-member teams and five tons against associate teams — four against Kenya and one against Namibia.
All of Kohli's 49 hundreds have been against the first nine full-member countries. Overall, he is the fourth-highest run-getter in ODIs with 13,626 runs in 289 matches, averaging 58.48 and a strike rate of 93.55.
Former Indian little master Sachin is on the top of the list with 18,426 in 463 matches at an average of 44.83. Former Sri Lankan skipper Kumar Sangakkara (14,234) and ex-Australian captain Ricky Ponting (13,704) are just above Kohli.
Kohli's batting technique is a sight to behold. His impeccable balance, precise footwork, and ability to adapt to different playing conditions are unmatchable. His wide range of shots and the ability to play both pace and spin with equal finesse make him a complete batsman. Kohli's ability to construct innings and pace his innings according to the team's requirements is a testament to his skill and cricketing intelligence.
Kohli's commitment to fitness and his unparalleled work ethic have set new standards for cricketers around the globe. He is often cited as one of the fittest cricketers in the world. His dedication to physical conditioning and maintaining peak fitness levels has not only enhanced his performance but has also influenced the Indian cricket team's fitness culture.
One of the traits that set Kohli apart is his adaptability. He has successfully adapted his game to different formats and playing conditions. Whether it's navigating challenging English conditions or dominating bowlers on spin-friendly subcontinent wickets, Kohli's versatility is a key factor in his world-class status.
Mental toughness is a crucial aspect of cricket, and Kohli possesses it in abundance. He thrives under pressure and often rises to the occasion when the team needs him the most. His ability to maintain focus and composure, even in high-pressure situations, has led to numerous match-winning performances.
Kohli's list of records and achievements is nothing short of astounding. He holds numerous records in international cricket, including being the fastest to score 8,000, 9,000, 10,000, and 11,000 runs in ODIs. He is the fastest player to reach 70 international centuries.
Kohli's journey from a young cricket enthusiast to a global cricketing icon is a testament to his dedication, passion, and relentless pursuit of excellence. His legacy in the world of cricket is already assured, and he continues to inspire generations of cricketers with his remarkable talent and unwavering commitment.
Kohli's leadership qualities and captaincy skills are commendable. Under his captaincy, the Indian cricket team achieved numerous milestones, including reaching the No 1 ranking in Test cricket. His ability to inspire and motivate his team members, as well as make astute tactical decisions on the field, has been instrumental in India's success.
In every game he plays, Kohli strives for excellence, setting an example for aspiring cricketers worldwide. If Kohli remains fit and plays for 4-5 years more, he can set many batting records that could be difficult to break for a long time.
---
The author writes on cricket. He can be reached via email [email protected]

Originally published in TNS