A deadly hailstorm the size of tennis balls pelted a region of northern Italy on Wednesday night, injuring at least 110 people, according to local media.
As a result of an unprecedented storm, the streets of Veneto were covered with hail up to 10 cm in diameter, according to regional president Luca Zaia.
According to CNNThe Veneto regional civil protection said emergency services received more than 500 calls for help due to property damage and personal injuries.
Workers have begun removing trees and other plants severely damaged by the storm and removing glass from shattered windows.
"After affecting our mountainous regions, the wave of bad weather has now reached the plains as well, injuring some people," Zia said. Most of the injuries were caused by broken glass and people slipping on the hail, he said.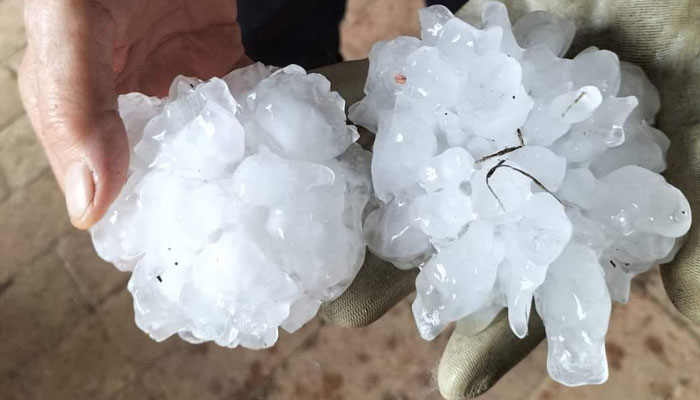 A 53-year-old man riding a bicycle during the storm died when his wife, who was following him in her car, ran over him. sky24 informed of.
This year, there have been notable changes in the weather across Europe, including several days of extreme heat in Italy, Spain and Greece, while Italy's capital Rome set a new record on Tuesday reaching 41 degrees Celsius.
The recent heat wave was named Cerberus by the Italian Meteorological Society in honor of the three-headed monster that serves as a guard at the gates of Hell in Dante's Inferno.
Luca Mercalli, head of the Italian Meteorological Society CNN that "the earth has a high fever and Italy is feeling it firsthand."
Additionally, more than 20 rivers in northern Italy's Emilia Romagna region broke their banks in May, causing a wave of landslides and 'deadly flooding in some areas once in a century'.
While the human-caused climate crisis is growing, scientists are adamant that there is no plan to reduce temperatures anytime soon, and extreme weather events will become more frequent and more intense.