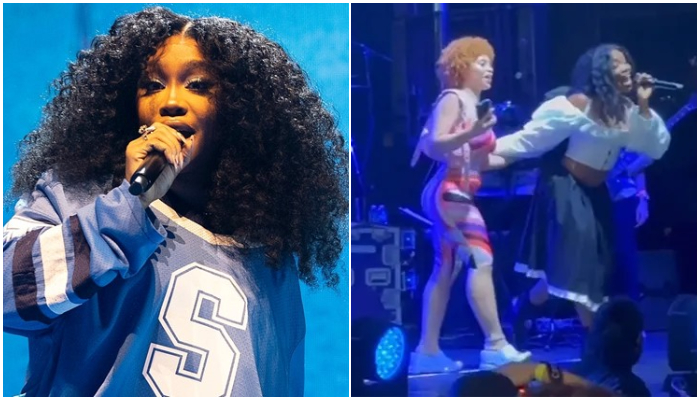 SZA spiced up her NYC concert with a surprise appearance by Ice Spice.
During her performance at the Brooklyn Navy Yard on Friday night, Grammy-winning singer SZA delighted her fans with an unexpected guest. None other than Ice Spice herself joined SZA on stage, sending the crowd into a frenzy.
As the orange-haired rapper made her way to the Snooze hitmaker, the energy in the venue soared. The two artists shared a fun-filled moment, with Spice twirling around, fixing her hair, and even taking a selfie. SZA couldn't help but shower Spice with praise and even bowed down to her.
Spice struck a few seductive poses and shared some laughs with SZA before leaving the stage. The collaboration between these two immensely popular entertainers was a true treat for the audience.
This surprise appearance follows Taylor Swift's recent performance in New Jersey, where she also brought out Ice Spice to perform their song Karma.
Meanwhile, SZA's upcoming album SOS is already quite lengthy, featuring a total of 23 songs. However, according to SZA's recent update, the tracklist is set to expand and potentially exceed 30 songs.
In order to generate excitement for the forthcoming release, the 33-year-old star even performed a couple of unreleased tracks titled Saturn and Boy From South Detroit. 
While it remains uncertain whether these songs will be included in the deluxe version of the album, their proximity to the announcement suggests that it's fair to assume they will be.