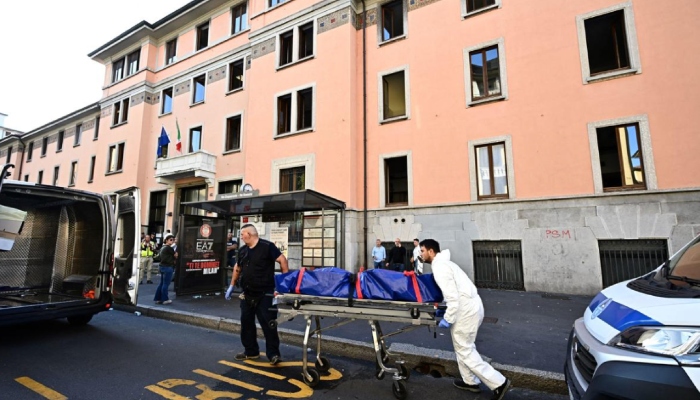 A massive fire broke out early Friday at a retirement home in Milan, killing six people, according to firefighters.
About 80 other residents were hospitalized for smoke inhalation. The three-storey building, which housed 167 people, went up in flames early in the morning.
Lucia, a local resident who witnessed the incident from her home, described the scene as "terrible". They said elderly people were trying their best to protect themselves with wet clothes, while the windows were crackling due to the intense heat.
According to the fire brigade, the cause of the fire is still being investigated. Emergency services, including more than 10 ambulances, several fire trucks and a mortuary van, responded rapidly to the retirement home in the southern part of the city.
In a tweet, the fire brigade said, "Six people have tragically lost their lives, and several others have been hospitalized due to smoke inhalation. The building was quickly evacuated by firefighters, who rescued dozens of people." saved his life."
Milan fire chief Nicola Micelle confirmed that around 80 people were taken to hospital, two of them in serious condition. Italian media reports indicate that 14 others are in critical condition.
According to sources, the victims include five women aged 69 to 87 and a 73-year-old man. The mayor of Milan, Giuseppe Sala, said the fire started in the rooms of two female residents, both of whom tragically died.
Although the fire did not spread to adjacent rooms, the smoke proved fatal, killing the other four victims.
A staff member immediately alerted authorities at 1:20 a.m. upon detecting the presence of smoke, prompting four teams of firefighters to be dispatched.
They faced challenging conditions including poor visibility in the corridor and flames in one of the rooms. Their primary focus was to extinguish the fire and get the occupants out safely.
The evacuation process was complicated by the heavy smoke and limited mobility of some residents, which required them to be pulled out individually.
Mayor Sala commended the heroic efforts of the firefighters who carried out the evacuation while ensuring the safety of every resident. Each person was provided with identifiable bracelets and thermal emergency blankets. The local council is currently working to find suitable accommodation in other retirement homes for those affected by the fire.
The retirement home, which is privately operated under the name "Casa per Konyugi", serves elderly persons who require assistance but do not require hospitalization. Like many similar establishments, it faced significant challenges during the coronavirus pandemic, as 53 residents reportedly lost their lives to the virus as of April 2020, as Corriere della Sera reported.