Singapore's Changi Airport, renowned as the world's best airport, has recently completed a significant makeover, enhancing its already impressive facilities.
Changi Airport secured several accolades at the Skytrax World Airport Awards 2023, including the world's best airport overall, the best airport dining, and the best airport leisure amenities.
The terminal in focus for the upgrade was Terminal 2, and the enhancements have expanded its capacity, allowing it to handle an additional five million passengers annually, reaching a total capacity of 90 million passengers.
One of the notable additions to Terminal 2 is the stunning 46-foot-tall digital waterfall known as the 'Wonderful.' This colossal digital screen, situated within a vertical garden in the departure hall, displays mesmerizing footage of cascading water, offering passengers a soothing and immersive experience as they wait for their flights.
The terminal also features a remarkable garden called Dreamscape, which boasts over 20,000 plants representing around 100 species. Under a 'digital sky' that changes colours to simulate different times of the day, this garden provides an enchanting atmosphere with the sounds of Singapore's local wildlife.
For those looking to relax with a refreshing beverage, Toni the robot bartender at the Lotte Duty Free Wines & Spirits store offers complimentary cocktails. The store itself is adorned with a massive LED ring displaying serene moonlit scenes, providing a luxurious and immersive shopping experience.
In addition, Terminal 2's Gourmet Garden dining area offers not only delectable cuisine but also panoramic views of the airport. Diners can savour a range of culinary delights, including cocktail fusions, chicken rice, and fresh pastries while gazing at up to 16 different aeroplanes through the floor-to-ceiling windows.
Families travelling with children can make use of the '2 Bears Hideout,' a dedicated space for play and entertainment. Here, children can enjoy a variety of interactive activities in a unique and comfortable environment.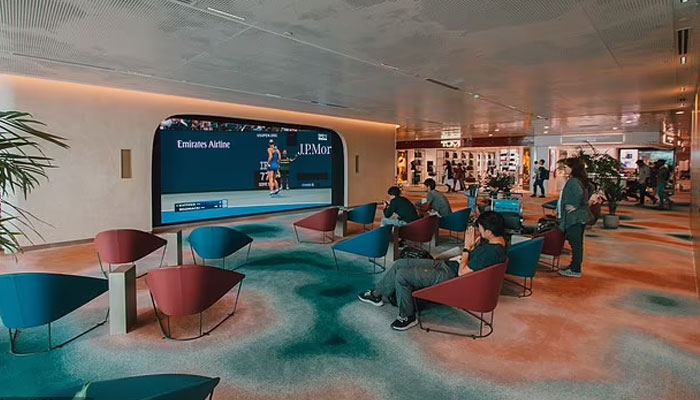 The expansion and renovation of Terminal 2 have added more than 21,000 square meters of space, accommodating new systems and retail areas. 
This includes the Fast and Seamless Travel (FAST) zone, which now offers double the number of automated check-in kiosks and bag-drop machines. The terminal also features automated special assistance lanes for young children and passengers with disabilities.
The refurbishment project was completed ahead of schedule, marking a significant achievement, considering it took place amid the challenges of the COVID-19 pandemic. Changi Airport Group's commitment to enhancing the airport's facilities has further solidified its reputation as one of the world's leading airports.