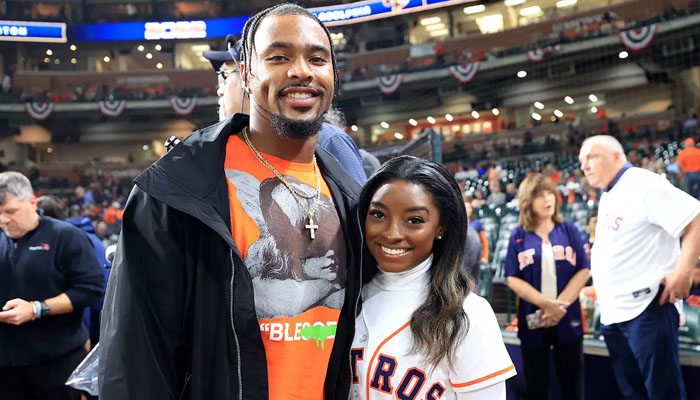 Simone Biles was all for supporting her husband, Jonathan Owens, as he played his first regular-season game for the Green Bay Packers against the Chicago Bears.
Biles, 26, shared a carousel of photos from their trip to Chicago on Instagram, highlighting her role as Owens' "biggest cheerleader." The Packers won the game 38-20 at Soldier Field stadium.
"A weekend in windy city," Biles captioned her post.
The series of sweet images shared by Biles began with a sun-drenched selfie, where she was in the foreground, and her husband, Owens, appeared to be standing at the edge of the shot.
In another photo, the couple posed together indoors. Biles had a smile on her face with her tongue slightly poking out, while her husband leaned forward over her.
They also shared a joyful moment in another photo posted by Biles, where they both smiled while embracing. In the picture, Biles stood on tiptoes as they embraced. The couple, who married in April and had a second ceremony in Mexico in May, looked happy and in love in these images.
"My biggest cheerleader," Owens responded to the post in the comment section.
In addition to the images from the football game, Biles also posted a photo where she held up a restaurant menu that welcomed her by name. She also shared a blurry mirror selfie with friends.