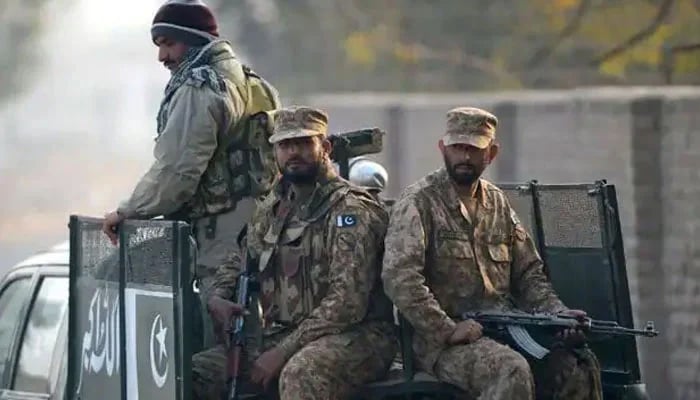 Intense fire exchange took place between troops and terrorists: ISPR.
Forces carry out sanitisation of surrounding areas in Chitral district.
Military says locals appreciated operation by security forces.
---
Security forces killed two terrorists during an intelligence-based operation (IBO) near the Pakistan-Afghanistan border in the Chitral district of Khyber Pakhtunkhwa, the military's media wing said on Wednesday.
In a statement, the Inter-Services Public Relations (ISPR) said that security forces conducted the IBO in Ursoon near the border area in Chitral district on the night of 7-8 November.
"During [the] conduct of the operation, intense fire exchange took place between own troops and terrorists, resultantly two terrorists were sent to hell, while four terrorists got seriously injured," the statement added.
It said sanitisation of the surrounding areas is being carried out to neutralise any other terrorist found in the area.
"Locals of the area appreciated the operation by security forces of Pakistan, who remain determined to eliminate the menace of terrorism from the country."
The latest IBO came two days after Pakistan Army's Lieutenant Colonel Muhammad Hassan Haider and three other soldiers were martyred in an exchange of fire with the terrorists during the operation in Khyber District of KP, the ISPR had said.
The security forces led by Lt-Col Haider conducted the IBO in the general area of Tirah in Khyber District and killed three militants and injured three others, it added.
The nation of 240 million has faced a surge in terrorism in recent months, with the banned Tehreek-e-Taliban Pakistan (TTP) and other militant outfits intensifying their actions against security forces.
Earlier today, caretaker Prime Minister Anwaar-ul-Haq Kakar said Afghans were also deeply involved in suicide attacks and other clashes with Pakistan forces, adding there had been a huge rise in security incidents since the Taliban´s return to power in Kabul in 2021.
More than 250,000 people have crossed from Pakistan to Afghanistan since an October ultimatum given to the 1.7 million Afghans Islamabad said were living illegally in the country.
"The majority of these illegal immigrants in Pakistan are of Afghan origin," Premier Kakar said, adding, "A significant portion of those involved in criminal and terrorist activities are among these illegal immigrants."
He also said there had been a 60% increase in terror incidents in Pakistan since the Taliban took power in August 2021, resulting in 2,267 deaths.
While he blamed outlawed TTP for the majority of incidents, he said they were using bases in Afghanistan and Afghans were also involved.
He said no action had been taken, despite Pakistan frequently complaining to Afghanistan´s rulers.