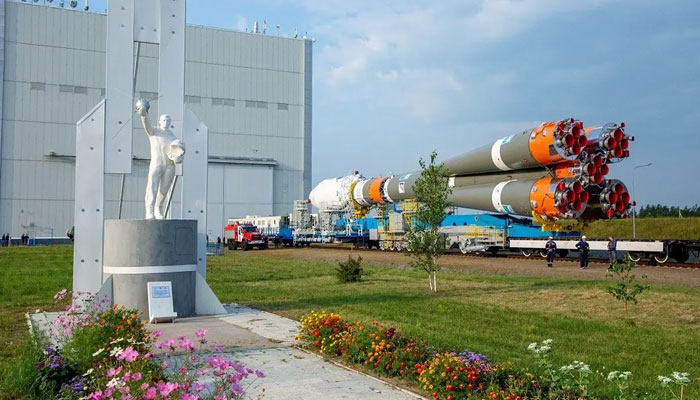 Russia has propelled its inaugural moon-landing spacecraft into the skies after a 47-year hiatus. 
The mission aims to secure a soft landing on the lunar south pole, renowned for potentially harboring reservoirs of precious water ice. 
This lunar venture, the first since 1976, finds itself in a tight race with India, which successfully launched its Chandrayaan-3 lunar lander recently. The global arena witnesses a broader contest with the United States and China, both fervently pursuing advanced lunar exploration initiatives centered around the coveted lunar south pole.
At 2:11am Moscow time (1111 GMT on Thursday), a Soyuz 2.1v rocket propelled the Luna-25 spacecraft from the Vostochny cosmodrome, situated 3,450 miles (5,550 km) east of Moscow.
Scheduled for a lunar touchdown on August 21, Yuri Borisov, the head of Russia's space agency Roscosmos, expressed anticipation for a highly accurate and gentle landing. The originally designated landing date of August 23 has now been adjusted to August 21.
Upon successful landing, Luna-25, roughly the size of a small car, will embark on a year-long mission at the moon's south pole. This region has recently piqued scientific interest due to the detection of water ice traces within its shadowed craters by NASA and other space agencies.
Beyond the scientific endeavors, the Luna-25 mission bears substantial significance. The Kremlin regards it as a counter to the Western sanctions imposed over the Ukrainian conflict. These sanctions, targeting Moscow's aerospace sector, have proven ineffective in undermining the Russian economy.
Furthermore, this lunar mission stands as a litmus test for Russia's burgeoning autonomy in space exploration. Following its 2022 incursion into Ukraine, Russia's space cooperation with the West has dwindled, with the International Space Station representing a fragile point of collaboration.
According to Asif Siddiqi, a history professor at Fordham University, Russia's lunar ambitions reflect a multi-dimensional pursuit, encompassing national power projection on the global stage.
Although the iconic Neil Armstrong made history with his lunar stroll in 1969, the Soviet Union's Luna-2 achieved the first lunar surface touch in 1959. Subsequently, the Luna-9 accomplished the maiden soft landing on the moon in 1966.
Having veered towards Mars exploration, Russia refrained from interplanetary probes post the Soviet Union's dissolution in 1991.