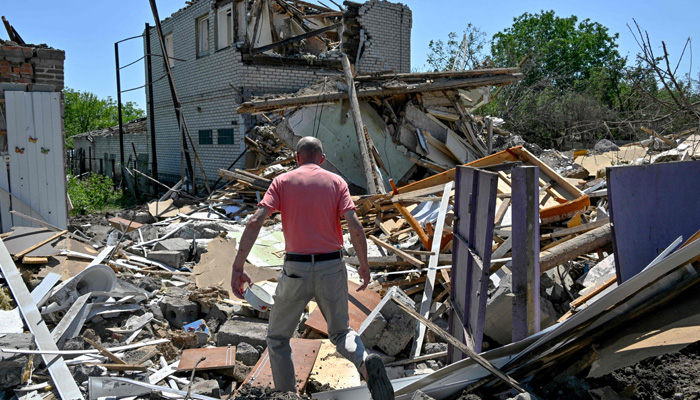 As US President Joe Biden prepares to meet Nordic leaders in Finland with the NATO alliance pledging to support Ukraine, Russia has issued its strongest response to the Western alliance by launching airstrikes and issuing nuclear threats. AFP Thursday.
At a recent summit in the Lithuanian capital Vilnius, the US-led NATO pledged support to Kiev, however, gave no timeline for Ukraine's membership.
According to Kiev, Moscow launched an airstrike on Ukraine, resulting in the destruction of 20 Russian attack drones and two cruise missiles.
There was major destruction in the capital, with four people injured, as confirmed by the city's mayor.
Expressing its displeasure with Western support, Russia declared that it viewed the F-16 fighter jets sent to Ukraine as a "nuclear" threat because of their ability to carry nuclear bombs.
Russian Foreign Minister Sergei Lavrov rejected any assurances offered by the West, insisting that Russia cannot ignore the potential nuclear capabilities of these aircraft.
Leading an 11-nation coalition, the Netherlands and Denmark have launched a plan to train Ukrainian pilots in operating the US-made F-16, following authorization from Washington.
Similar threats have been made before since Russia's special military operation against Ukraine in February 2022.
President Biden's visit to Helsinki came after the G7 countries committed to support Ukraine until it defeats Russia.
US-Nordic cooperation
During his visit, the 80-year-old president is scheduled to meet Finnish President Sauli Niinisto, whose country shares a 1,300-kilometre (800-mile) border with Russia and abandoned its historic military non-alignment following Russia's invasion of Ukraine.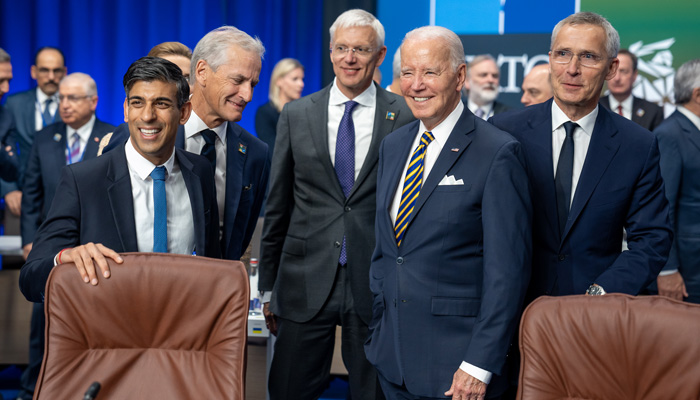 Besides Niinisto and Finnish Prime Minister Petteri Orpo, Biden will also discuss security, environment and technology issues with the leaders of Sweden, Norway, Denmark and Iceland to explore cooperation between the Nordic countries and the US.
It is the first time a US president has visited Helsinki since Donald Trump's summit with Russian President Vladimir Putin five years ago.
During a Cold War-era alliance summit, members apparently frustrated President Volodymyr Zelensky by not providing a clear timeline for Ukraine's membership in the grouping, saying the invitation would only be extended if "certain conditions are met". .
Instead, the G7 countries offered Ukraine a package of long-term security commitments through bilateral agreements with Kiev and the world's rich countries.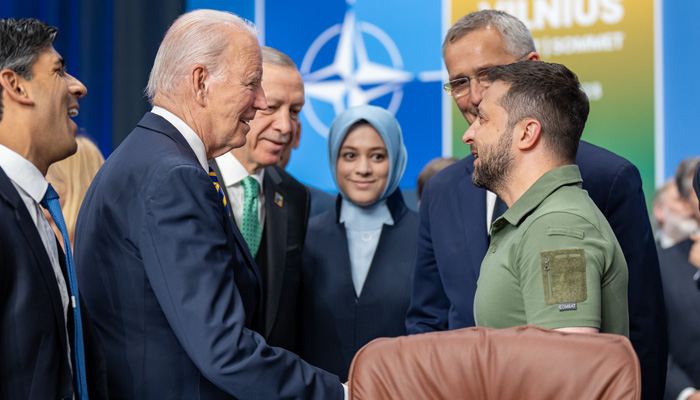 Speaking at a NATO summit, Joe Biden aimed to demonstrate his resolve to Putin after his meeting with Zelensky, saying "we will not budge."
He stressed that Putin's doubts about the determination and unity of the US and its allies are misplaced and that his faith will remain firm.
Following the overnight attacks, Ukraine's Air Force spokesman Yuriy Ignat highlighted the inadequacy of recently supplied Western weapon systems to cover the entire country.
Ignat told national television that Ukraine lacks the means to intercept ballistic missiles and that the air force is still gathering information about the results of Russia's Iskander-M ballistic missile launch from occupied Crimea.