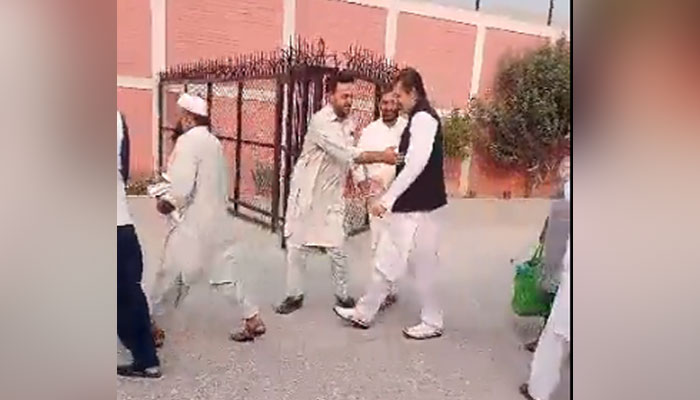 Ali Muhammad Khan arrested under MPO following May 9 riots.
PHC approves PTI leader bail, orders his release from Mardan jail.
Judge summons deputy commission to appear on next hearing.
---
Pakistan Tehreek-e-Insaf (PTI) senior leader Ali Muhammad Khan, who was arrested following May 9 riots, was released on Thursday from Mardan jail on Peshawar High Court (PHC) order.
Khan was first arrested by the Islamabad capital territory police on May 11 under Section 3 of the Maintenance of Public Order Order (MPO) in connection with the violent protests triggered by the arrest of PTI chief Imran Khan on May 9 in a corruption case.
During the days-long protests, which ended only after the PTI chief's release, enraged party workers allegedly attacked private and public properties, including military installations — the Lahore Corps Commander's House or Jinnah House and the General Headquarters (GHQ) entrance in Rawalpindi. At least eight people lost their lives during the violent protests.
Since then, the PTI leader was released several times on the court's order only to be taken into custody soon after release.
The PTI on its official Twitter handle said Khan remained incarcerated for 80 days in eight different "bogus cases".
Earlier today, the PHC approved the bail application of the PTI leader and ordered his release from prison.
PHC Justices Ijaz Anwar and Fazal Subhan heard the bail plea of Khan.
During the hearing of the case, Justice Anwar asked why Ali Muhammad Khan was taken into custody.
The Mardan assistant deputy commissioner told the court that the PTI leader was arrested under Section 3 of the MPO.
On which the PHC judge said the PTI leader has been in jail for two months. "How did Ali Muhammad Khan disturb the law and order situation?" Justice Anwar inquired.
The judge also ordered the deputy commissioner to appear before the court on the next hearing.
He warned that no officer will commit illegal work if any deputy commissioner is made an example of.
The PHC adjourned the hearing of the case till August 8.