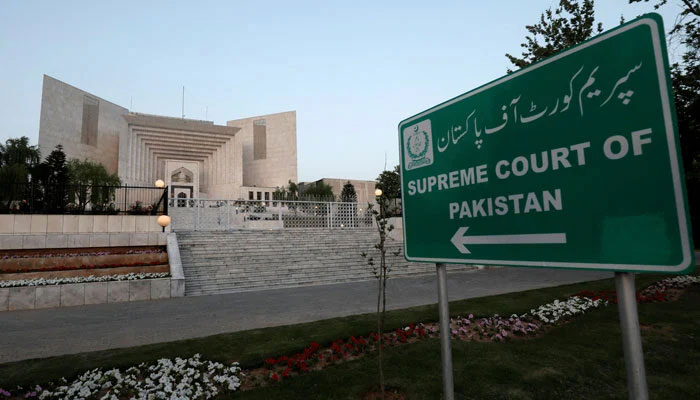 PTI claims to support President Alvi at national and judicial levels.
Non-implementation of president's orders is unconstitutional: PTI.
PTI's legal team says president did not sign the bills.
---
Hours after the controversy, the Pakistan Tehreek-e-Insaf (PTI) on Sunday announced that it would approach the Supreme Court after President Arif Alvi tweeted that he did not sign the bills seeking amendments to Official Secrets and Army Act. 
Earlier today, President Alvi denied giving assent to Official Secrets (Amendment) Bill, 2023, and the Pakistan Army (Amendment) Bill, 2023, claiming that his staff "undermined" his orders.
"As God is my witness, I did not sign Official Secrets Amendment Bill 2023 & Pakistan Army Amendment Bill 2023 as I disagreed with these laws," President Alvi said on X, formerly known as Twitter.  
Following his statement, the former ruling party claimed to offer all-out support to the head of state at the national and judicial levels, saying that it would ask Chief Justice of Pakistan (CJP) Umar Ata Bandial to find out the truth and hold those who are responsible accountable. 
The president's opinion, related to his alleged assent to the most important legal drafts, requires serious steps, the party spokesperson said. 
President Alvi, the PTI also said, has identified the deep-rooted issues within the state and the government, adding that the head of state is the symbol of the federation, part of parliament and supreme commander of the Pakistan Army. "The non-implementation of the president's orders is unconstitutional and unacceptable."
The Imran Khan-led party said that they would approach the apex court over the matter. It added that the entire nation and the party are standing with the president for the supremacy of the Constitution and law. 
PTI's legal team demands action

The PTI's legal team has said that it would challenge the bills in the Supreme Court in consultation with the party's core committee, saying that this law is against the Constitution and holds no legal justification.
"It is the government's responsibility to withdraw this act," PTI's advocate Shoaib Shaheen said during a press conference.
He said that the president did not sign the bills, adding that it is against the Constitution according to Article 75.
Shaheen added that the president, in his tweet, has clarified that both bills should be sent back to parliament and his staff informed him that the bills had been returned. "It is a pity who used his [president's] powers."
The lawyer expressed that parliament has become a "rubber stamp" at this time. "Action should be taken against those who passed the bills with the help of the staff."
Advocate Shaheen also said that CJP Bandial should take suo motu on this matter.