Authorities suspect a toxic gas leak may have been a factor behind the deaths of 17 people, including children, in an illegal mine in a South African shanty town in Boksburg, east of Johannesburg.
Visiting the disaster site near Boksburg, east of Johannesburg, Gauteng province premier Panyaja Lesufi said investigations were underway to determine how the leak occurred in a cylinder that contained an unknown toxic gas.
Police and forensic investigators advised people to evacuate the area as toxic gas was still present at the scene.
A spokesman for disaster and emergency management services at Ekurhuleni Municipality said: "Preliminary investigations indicate the gas may be linked to illegal mining."
South Africa has experienced massive illegal mining for decades, mostly for gold or coal, through networks operated by organized crime as well as petty theft, robbing the region and state coffers of billions of rand .
"whether [suspected] It is not yet known whether illegal miners are among the dead," William Natalee told the broadcaster. SABC,
Grief-stricken locals said that the family members died while trying to flee from the spot following the gas leak on Wednesday.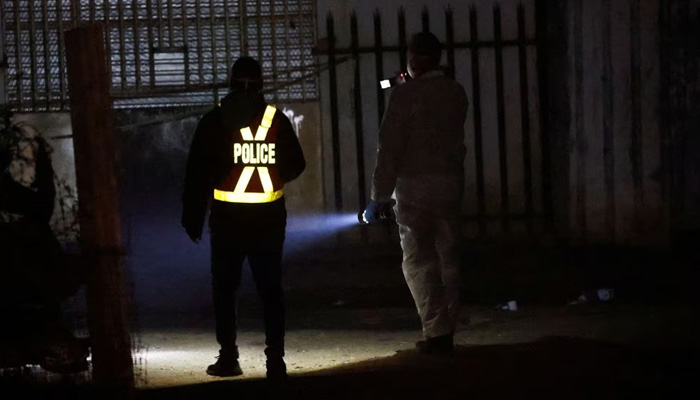 "I found my cousin walking and crying and I asked him what happened. He told me all his children were dead," said Felsa Nhamusa, who also lost her brother-in-law.
"When I woke up this morning, came back to see what the situation was, they told me my brother-in-law was running trying to escape and he fell and died."
Lesufi described the scene as "heartbreaking", with the bodies of the victims, including a one-year-old child, strewn around.
He said the death toll had reached 17, while four people were still seriously ill in hospital.
He said, "This illegal mining thing is completely out of control… We really need our police force to have the necessary firepower to counter these illegal miners."
"Preliminary investigations have shown that the toxic gas was used by illegal miners to extract gold from the soil," the provincial government said in a statement.
Cyril Ramaphosa's office said, "The South African president urged investigators to find out the cause of the accident in order to avoid similar disasters in the future."
"On Wednesday night forensic personnel wearing hazmat suits searched the area and they will continue their investigation and try to secure the area," Lesufi said.
"They've tried to make sure that the cylinders that are still there don't either explode or they don't do more harm to people. When I came here last night the smell was still in the air."
In early May, a methane gas explosion at a South African mine killed at least 31 people. Another gas tanker explosion in December killed dozens in the same township as Wednesday's fatal leak.