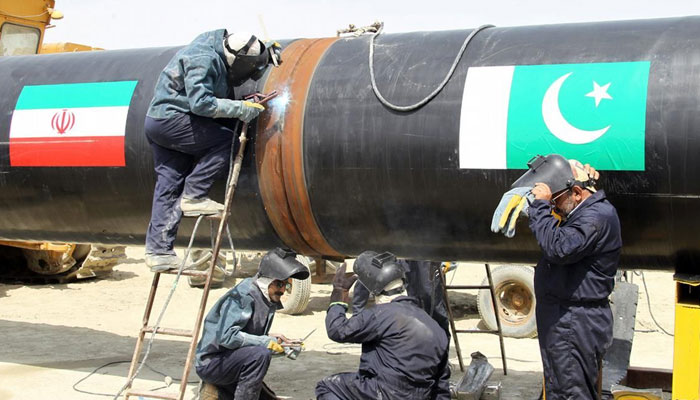 Pakistan renewed its commitment to project: minister.
Iran offers to export more electricity for Gwadar, Chaman.
Both countries decide to explore ways to implement project.
---
ISLAMABAD: In a positive development, Pakistan and Iran have decided to jointly develop a consensus implementation plan for the Iran-Pakistan (IP) gas pipeline, The News reported Friday. 
The decision came after a meeting between two sides in Tehran during which Islamabad had sought relaxation on the Feb-March 2024 deadline to avert the penalty of $18 billion for not laying down a pipeline in its territory. 
Iran had asked Pakistan last year to construct a portion of the gas line project in its territory till February-March 2024 or pay a $18 billion penalty.  
The negotiations regarding the plan would begin in the next two to three weeks.
Despite this, the Iranian deadline to move international arbitration by September 2024 would remain in the field allowing that much time to explore bilateral avenues.
Energy Minister Muhammad Ali told The News, "We have held constructive talks in Tehran and Pakistan has renewed its commitment to the project.
"We have convinced the neighbouring country of our deficient energy status for which we also have enhanced work on the TAPI gas line project. The Iranian side listened to us carefully and agreed to increase active engagements to enable the IP project."
During the talks, the Iranian side also offered to export more electricity to Pakistan for Gwadar and Chaman and the former agreed to consider that. Pakistan is already importing 104MW of electricity from Iran.
Ali said in his view Pakistan needs more electricity from Iran for Gwadar, of course on a better negotiated tariff. Though China is setting up an imported coal-based 300MW power plant at Gwadar, it may not fulfil the future needs. 
"Once the national grid gets installed at Gwadar, Pakistan can also use more Iranian electricity for its national use," the minister said.
When the energy minister was asked about the gas project and the issue of $18 billion penalties, he said that both countries have decided to explore ways to implement the project.
The Inter-State Gas Systems of Pakistan and the National Iranian Gas Company signed a revised agreement in September 2019 for the pipeline.
This accord stipulated that Iran would not approach any international court for any delay till 2024 but would be free to do so afterwards. Pakistan could not build the pipeline primarily due to the risk of US sanctions that any project with Iran would invite.
During the talks, the Iranian side was of the view that there could be no US sanctions as it was already exporting gas to Azerbaijan and Turkmenistan, which have not been exposed to any sanctions. The same would hold good for Pakistan in that scenario.