Pakistan for the first time in their history will feature in second round of 2026 FIFA World Cup Qualifiers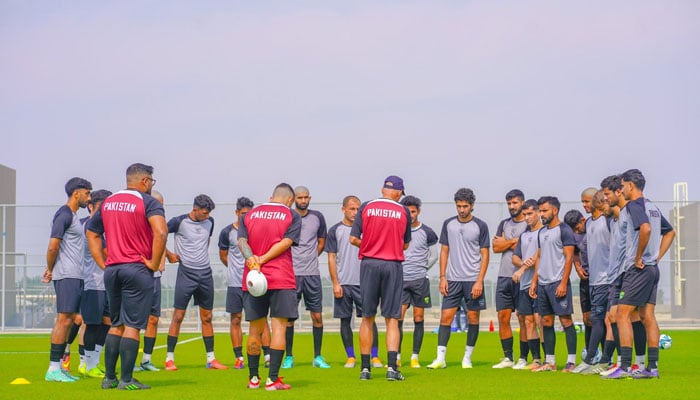 AL-AHSA, SAUDI ARABIA: In a first, Pakistan will today take on Saudi Arabia in the second round of the 2026 FIFA World Cup Qualifiers for the first time in its footballing history, reported The News on Thursday.
The historic game will be played at the Al-Fateh Stadium at 7:30 pm local time.
Pakistan and Saudi Arabia last played against each other in 1978 at the latter's home which the Green Shirts were humiliated 6-0.
Jordan and Tajikistan are the other teams in Pakistan's group.
These four teams will play against each other home and away, the top two nations will progress to the third round while the last two teams qualify for the third round of the 2027 Asian Cup Qualifiers. Being a host country of the 2027 Asian Cup, Saudi Arabia have already qualified for the continent's major showpiece event.
Pakistan team since its arrival in Saudi Arabi on November 11 has held six training sessions at the Al-Fateh Stadium's reserve venue. They were joined by their foreign-based players who came in two different groups.
England-based winger Imran Kayani had joined the team in Islamabad and was part of all the training sessions held in the federal capital under English coach Stephen Constantine. The Whitehawk FC player is likely to make his international debut today.
According to team sources, overseas players Harun Hamid, Yousuf Butt, Abdullah Iqbal and Abdul Samad arrived in Saudi Arabia two days ago while Otis Khan and Rahis Nabi checked in at the hotel on Tuesday.
Coach Constantine on Wednesday said that they expect a tough match against the hosts.
"There is no doubt that Saudi Arabia are a tough side and we will try to make our best effort against them," he said during a pre-match news conference at the Al-Fateh Sports Club.
He said that the time was short for preparation but whatever time they had at their disposal they tried to prepare well.
"We had a few good days here and a week at Islamabad and hopefully we will put in our best," Stephen said.
He said that Pakistan will badly miss their defender Easah Suliman who has been ruled out for a few weeks due to an injury which he developed while playing in the Azerbaijan league. Constantine refused to disclose who will lead the side.
"When one is down the other comes to take his place," he said.
The coach sees the game as a big opportunity for Pakistani players to attract foreign scouts.
"They have to play well and when they do well then definitely they may get offers from professional clubs but it's a great honour to represent one's country first," Constantine said.
The second round matches will be held in three phases with the second phase and third phase to be held in March and June respectively.
Meanwhile, Saudi Arabia have injury woes of their own as Al-Hilal's winger Salem Al-Dawsari was ruled out of both the games against Pakistan and Jordan due to an ankle injury.
Saudi Arabia's Italian coach Roberto Mancini said that his team is ready for the show.
"It's a first official game for us in the Qualifiers. We are ready and you know the first game is always difficult," Mancini told the news conference.
"I think it is time to put youngsters in the team for the future because we saw many players in three months. And we believe that we have a good young players for the future and it's important to give them a chance in the important game," Mancini said.
"My target is to try to play good football. we started well but we played against tough teams and in future this team will progress well," he said. Since taking charge as Saudi Arabia's head coach last August his charges have lost three matches of the four they have played. He said that Saudi Arabia will not take Pakistan lightly.
Pakistan squad:
Goalkeepers: Yousuf Butt, Salman-Ul-Haq, Hassan Ali 
Defenders: Abdullah Iqbal, Haseeb Khan, Mamoon Moosa Khan, Mohibullah, Muhammad Sohail, Muhammad Saddam, Junaid Shah, Rao Umar Hayat, Muhammad Hamza Munir
Midfielders: Rahis Nabi, Alamgir Ghazi, Rajab Ali, Ali Uzair, Imran Kiyani, Harun Hamid
Forwards: Shayak Dost, Otis Khan, Fareed Ullah, Abdul Samad Arshad, Muhammad Waleed Khan, Adeel Younas
Officials: Stephen Constantine (head coach), Rogerio Ramos (goalkeeper coach), Claudio Altieri (performance coach), Muhammad Ali Khan (manager), Azam Khan (doctor), Muhammad Abdullah (physio), Haider Ali (media), Abdul Qayyum (masseur).