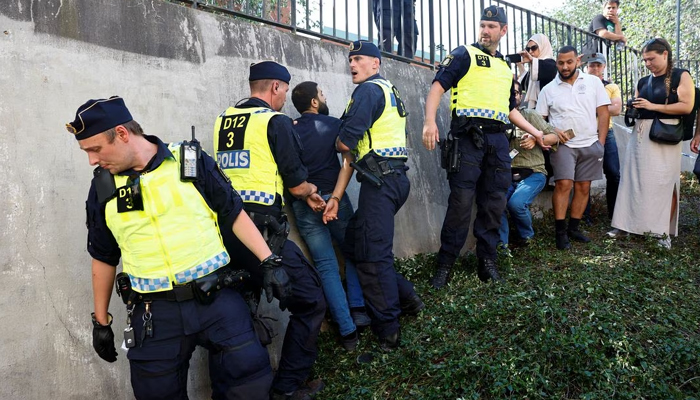 Pakistan has always stressed the need for peaceful coexistence: FO
The controversial protest comes weeks after a man allegedly insulted the Holy Quran.
"Islam calls for respect for all religions, holy figures."
---
Pakistan on Saturday criticized Swedish authorities for allowing public desecration of Torah and Bible in Stockholm, days after a man desecrated the Holy Quran outside a mosque in the country's capital.
"Offensive acts of religious hatred cannot be excused under the guise of freedom of expression and opinion," the Foreign Office said in a statement.
Swedish police said on Friday that they had given permission for a protest that would include the burning of holy scriptures outside the Israeli embassy in Stockholm, which has been condemned by Israeli and Jewish organisations.
The controversial protest, scheduled for Saturday (today), comes weeks after a man set pages of the Holy Quran on fire outside Stockholm's main mosque – leading to widespread outrage and condemnation around the world.
According to the application given to the police, the demonstration would involve the burning of the Torah and the Bible, was in response to protests against the burning of the Holy Quran and would be an expression in support of freedom of expression.
in a comment to AFPStockholm police insisted that in line with Swedish law they had given permission for people to hold public gatherings, not the activities to be carried out during them.
"The police do not issue permits for the burning of various religious texts – the police issue permits for holding a public gathering and expressing an opinion," said Carina Skagerlind, press officer for the Stockholm police.
Responding to the determined protest, the FO said: "As a religion of peace, Islam calls for respect for all religions, holy personalities and sacred texts."
It added that in line with this Islamic ethos, Pakistan has always emphasized the need to advance mutual respect, harmony and peaceful coexistence among religions, faiths and cultures.
The FO's communiqué called on the international community in one voice to condemn all such heinous acts of religious hatred that hurt the feelings of its adherents and act as deliberate provocations.
---
, With additional input from AFP