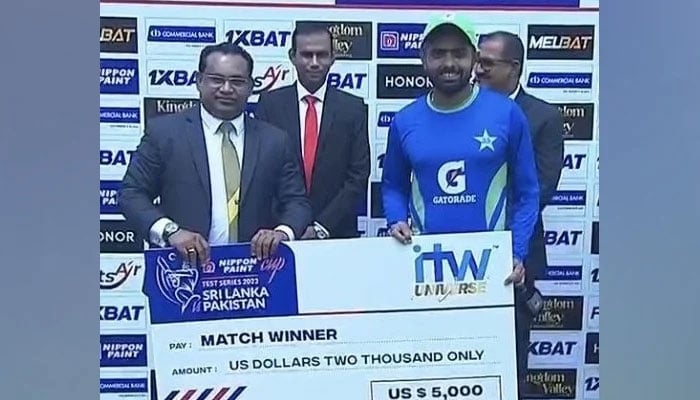 The Sri Lankan Cricket Board on Thursday apologized for an error in the presentation check presented to Pakistan captain Babar Azam after the Green Shirts won the first Test of the two-match series against the hosts in Galle.
In the check presented, $ 2,000 was written in words while $ 5,000 was written in figures. As soon as the mistake was exposed on social media, Sri Lanka Cricket (SLC) apologized for it.
"Sri Lanka Cricket would like to inform the public that the prize money awarded to the winner of the just concluded first Test match between Sri Lanka and Pakistan was $5,000," the statement said.
"In the meantime, we apologize for the error in the 'Presentation Check' given to the winner of the concluded first Test match between the two teams.
"The post-match presentation awards are produced by the ground rights holder for inbound tours of Sri Lanka, which in this case is ITW Consulting, which has acquired the rights for the period 2023-27.
Nevertheless, Sri Lanka Cricket, as the sport's governing body, will take full responsibility for the accident and would like to promise the cricket-loving public that in future, steps will be taken to ensure that such 'errors' are avoided," the detailed statement said.
Pakistan beat Sri Lanka by four wickets
Saud Shakeel's brilliant double century in the first innings helped Pakistan take a 1-0 lead in the two-match series.
On the fifth day, Pakistan began their chase of 131 at 48–3 with Babar Azam and Imam-ul-Haq at the crease.
Azam scored 24 off 28 balls with five fours before being caught by Prabhat Jayasuriya in front of the stumps.
Saud Shakeel also could not stay at the crease till the end and got out after scoring 30 runs in 38 balls.
Imam played a brilliant innings and remained unbeaten on 50, which included four fours and a six.
Agha Salman helped Pakistan win by hitting a six off the very first ball.