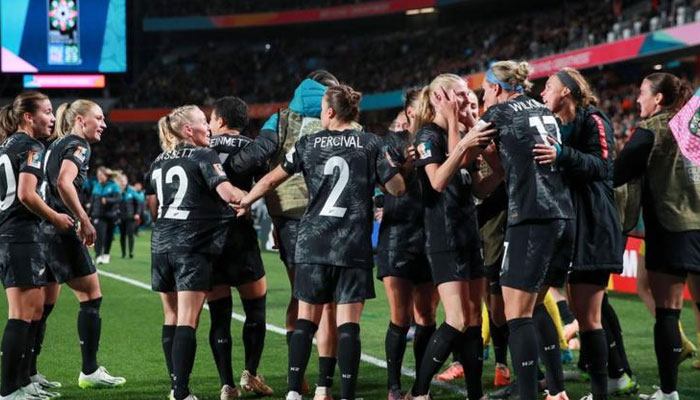 The 2023 FIFA Women's World Cup got off to a great start as co-hosts New Zealand pulled off a stunning win against Norway, their first on the global stage.
A remarkable match took place in Auckland, in which the Football Ferns pulled off an astonishing upset, led by Hannah Wilkinson with the decisive goal, which sent an enthusiastic crowd of 42,137 at Eden Park into a frenzy – a record attendance for a football match in New Zealand.
Prior to the game, a moment of silence was observed in honor of the victims of a tragic shooting incident in Auckland earlier that day, highlighting the importance of the start of the tournament. The atmosphere at Eden Park was palpable as New Zealand's loyal fans eagerly awaited the team's long-awaited moment since being named co-hosts alongside Australia.
Wilkinson got the breakthrough in the 48th minute, sending cheers in the stands. 1995 World Cup champions Norway tried to equalize after Wilkinson's goal, but Arsenal's Frieda Manam missed a great chance by firing the ball wide.
Throughout the match, New Zealand displayed remarkable resilience and competitive spirit, giving their opponents a tough fight. Norway made 12 attempts at goal, including a close shot from Tuva Hansen that hit the bar, and Guro Reiten's late effort unfortunately went wide. New Zealand goalkeeper Aurora Mikkelsen made a crucial dive to deny Ali Riley from doubling the lead.
The game also included a moment of emotion, with players Rhea Percival and Ali Riley, both appearing in their fifth World Cup, holding back tears during the national anthem, displaying a deep sense of pride in representing their country on such a grand stage.
Norway, on the other hand, have not lived up to expectations and now face a challenging match against Switzerland in Hamilton to avoid an early exit from the tournament. Despite an array of individual brilliance, Norway failed to gain momentum during the match. Manager Hege Riise emphasized that the team's poor performance could not be attributed to the earlier incidents in Auckland.
For New Zealand, the victory was historic, and the excitement among fans and players alike was palpable. The opening game of the tournament was a testament to the global popularity of women's football, with FIFA predicting that the tournament would be watched by two billion people worldwide.
New Zealand's victory in front of a partisan home crowd set the perfect atmosphere for what promises to be an exciting and memorable Women's World Cup. As the journey progresses, fans eagerly look forward to witness more spectacular matches, unexpected twists and turns and the emergence of new football heroes on the grandest stage of women's football.