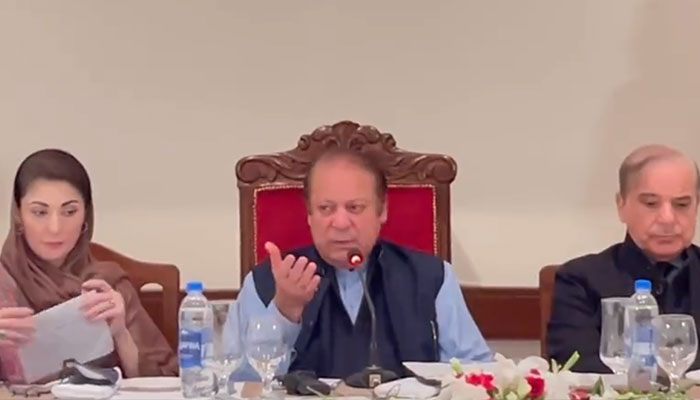 PML-N seeking electoral alliance, seat adjustment with JUI-F, BAP.

Politicians from PPP, PTI, BNP-M and others join Nawaz-led party.

Nawaz visits Quetta to strengthen party position ahead of polls.

---
Pakistan Muslim League-Nawaz (PML-N) supremo Nawaz Sharif has succeeded in wooing more than 30 electables from Balochistan to join his party's ranks during his visit to Quetta ahead of the upcoming general elections slated to be held on February 8 next year, Geo News reported.
The three-time prime minister, who returned to Pakistan on October 21 from a four-year self-imposed exile in London, has been leading the party's election campaign and forging new alliances ahead of the polls.
During his Quetta visit, Nawaz — accompanied by party President Shehbaz Sharif and Chief Organiser Maryam Nawaz — met political leaders from different political parties.
Following the huddles, more than 30 individuals — from Balochistan Awami Party (BAP), Balochistan National Party–Mengal (BNP-M), National Party (NP), Pakistan Tehreek-e-Insaf (PTI) and the Pakistan Peoples Party (PPP) — joined the Nawaz-led party.
From BAP, former Balochistan chief minister Jam Kamal Khan, Mir Saleem Khosa, Noor Mohammad, Baba Buledi, Sardar Masood Luni, Rubaba Buledi, Sardar Abdul Rehman Khetran, Shoaib Nosherwani, Ramin Jan Muhammad Hassni and Muhammad Khan Lehri joined the PML-N ranks.
PPP leaders Saeedul Hassan Mandokhail, Sardar Fateh Muhammad, and Faiq Jamali jumped ship to join the PML-N.
From the National Party, Mujib Mohammad Hassni and former senator Dr Ashok Kumar, while Zeenat Shahwani of BNP-M and PTI's Muhammad Jamali and Sardar Atif Sanjrani also joined the PML-N.
The Nawaz-led PML-N delegation met with various stakeholders — including a BAP delegation comprising Nawabzada Khalid Magsi, Manzoor Kakar, and others.
It should be noted that the PML-N and BAP have had a bitter past, as the party was founded in 2018 by political dissidents from Nawaz's party as well as those from the PML-Q.
The meeting was also attended by Pakhtunkhwa Milli Awami Party (PkMAP) President Khalid Magsi, National Party's Abdul Malik Baloch, and JUI-F's provincial leadership.
Earlier Geo News reported that the PML-N is seeking to forge an electoral alliance with the BAP and the Jamiat Ulema-e-Islam Fazl (JUI-F) to strengthen its position in the province.
The parties, in case they reach an understanding, would then jointly contest the general elections in the province and will decide upon the chief minister "with a consensus".
Sources said that the JUI-F has also put forward the name of Maulana Abdul Ghafoor Haideri conditioning their support if he is made the province's chief executive.
The development comes as earlier this month the PML-N and Muttahida Qaumi Movement-Pakistan (MQM-P) announced their electoral alliance to jointly contest the upcoming general elections in Sindh.
Pakistan Peoples Party Chairman Bilawal Bhutto-Zardari, while speaking to media in Mithi earlier in the day, took a jibe at the PML-N, urging the Nawaz-led party to "focus on Lahore".
"I would suggest that he [Nawaz] should stay in Lahore and focus on its problems," Bilawal said.
The PML-N ever since the dissolution of the national assembly in August, had been growing apart from their former ally PPP with the two being engaged in a scathing verbal showdown.