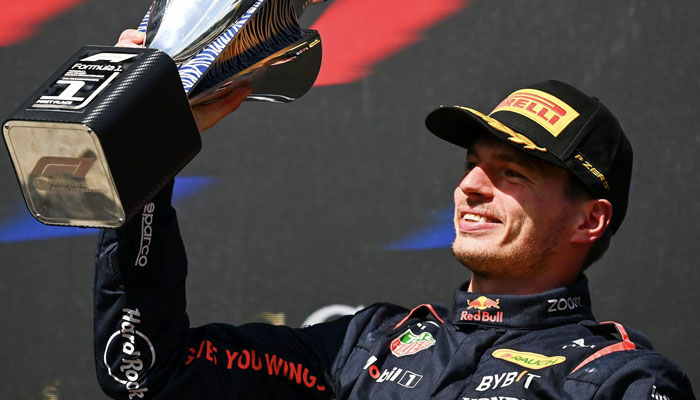 Max Verstappen showcased his undeniable prowess in the Belgian Grand Prix by storming to victory from a sixth-place start on the grid. His remarkable eighth consecutive win before the summer break further solidified his position as the championship leader with a substantial 125-point advantage.
Verstappen's extraordinary performance led to a Red Bull one-two finish, with Sergio Perez trailing in second place. However, the Dutchman's dominance was so remarkable that he appeared to be in a league of his own, leaving his teammate far behind. Ferrari's Charles Leclerc secured a respectable third position, while Mercedes' Lewis Hamilton and Aston Martin's Fernando Alonso finished fourth and fifth, respectively.
Starting from an unusually low grid position due to a five-place grid penalty, Verstappen cautiously navigated the early laps of the race. He steadily climbed up the ranks, overtaking both Hamilton and Leclerc using the DRS overtaking aid. After a well-executed pit stop, Verstappen unleashed his true potential, leaving no doubt about his mastery of the track.
As the race progressed, Verstappen's dominance was unmatched, with his skill and speed on full display. He consistently widened the gap between himself and his competitors, demonstrating an unparalleled level of superiority. Although a mid-race shower of rain added some tension, Verstappen's expert driving skills enabled him to handle the challenging conditions with ease.
While Verstappen celebrated his resounding victory, the other drivers struggled to match his pace. Leclerc, despite securing a third-place finish, acknowledged that his team still has work to do to close the gap with Red Bull. Meanwhile, Hamilton's consolation prize was claiming the fastest lap from Verstappen during a late pit stop.
In the context of the drivers' championship, Hamilton's fourth-place finish narrowed the gap between him and Alonso, as they continue their battle for third place. Alonso, who celebrated his 42nd birthday over the weekend, performed admirably, climbing from eighth on the grid to secure a commendable fifth position. His teammate George Russell faced initial setbacks but ultimately finished a few seconds behind Alonso.