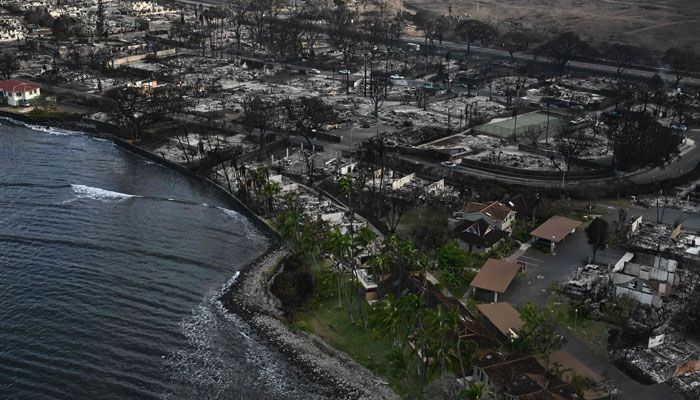 At least 36 people have died and 11,000 have been evacuated due to the wildfires that have devastated the historic town of Lahaina in Hawaii's Maui island.  
The devastating Maui wildfires left around 11,000 residents and tourists to be stranded. The historic town of Lahaina, known for its vibrant history and picturesque charm, found itself at the mercy of destructive flames.
Fanned by winds from a hurricane Dora, the Hawaiin wildfires blazed a destructive path through multiple neighbourhoods, leaving behind a landscape of charred remains. Adults and children of the Maui island alike were forced to flee to the ocean for safety, seeking refuge as flames devoured homes and communities through the night.
Flyovers conducted by the US Civil Air Patrol and the Maui Fire Department unveiled the extent of the devastation, revealing approximately 271 structures damaged or destroyed by the fire's relentless advance. Lahaina resident Mason Jarvi described the aftermath, saying, "We just had the worst disaster I've ever seen. All of Lahaina is burnt to a crisp. It's like an apocalypse."
The Maui wildfires ignited discussions about climate change's role in exacerbating extreme weather events. The catastrophe serves as a stark reminder of the necessity for disaster preparedness and climate resilience, particularly in vulnerable regions.
Responding to the crisis, President Joe Biden declared a major disaster in the affected area of Hawaii, vowing federal support to aid recovery efforts. The Federal Emergency Management Agency (FEMA) has rallied resources and personnel to provide assistance during this challenging period.