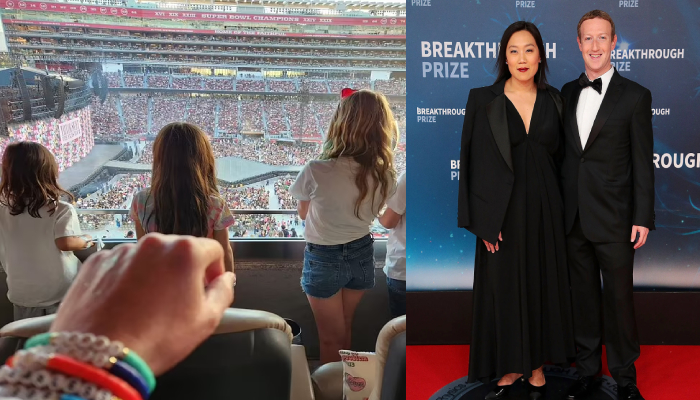 Mark Zuckerberg has recently offered insight into his daddy duties with his daughters on social media.
The Facebook CEO took a hiatus from his busy schedule and took his daughters as well as wife Priscilla Chan, to Taylor Swift's concert in Santa Clara on July 28.
Taking to Instagram on Friday, Mark posted a carousel of photos that featured special moments from the concert.
In one image, Mark's two eldest daughters, Maxima, seven, and August, five, could be seen looking at the crowded Levi's Stadium with their mother next to them.
Mark also uploaded another photo that shared another view of the stage while his daughters' friends also joined in at the concert.
There is also a photo of him and his wife, with whom he tied the knot in May 2012.
Captioning the post, Mark wrote, "Life of a girl dad."
One of his followers commented, "Probably hands down the best dad of all the tech giants."
Another remarked, "Mark as a swiftie is my favourite!"
"This is solid dad energy. Well done," added a third user.
Back in December 2019, Mark and Priscilla spoke to CBS This Morning about how they kept their daughters "grounded".
"First of all, we don't give them everything. So, I think that that's an important piece. But they also just have responsibilities. They have chores," explained Mark.
Priscilla added, "We also take them to work. Mark and I take both of them to work, to the office, to see sort of, like, what we do, how we contribute."