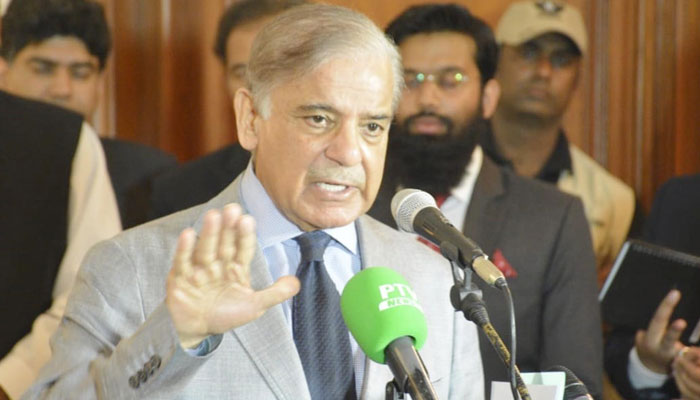 The Prime Minister says that its burden should not be put on protected areas.
Announcement to exempt 63% domestic consumers from the recent power hike.
Last week, the cabinet had approved a huge increase in the base tariff of electricity.
---
As part of his efforts to provide relief to the poor, Prime Minister Shehbaz Sharif on Monday announced exemption of Lifeline (up to 100 units) and protected category of consumers (101-200 units per month) from the recent steep hike in power tariffs.
On July 22, the federal cabinet approved a steep increase in the base tariff of electricity to Rs 7.50 per unit against the national average tariff fixation of Rs 4.96 by the electricity regulator.
| | |
| --- | --- |
| consumer categories | increase |
| access up to 100 units | Rs.3.0 |
| who are using 101-200 units | Rs 4.0 |
| who are using 201-300 units | Rs.5.0 |
| who are using 301-400 units | Rs.6.5 |
| who are using 401-700 units | Rs.7.5 |
Last week, the regulator hiked tariffs for loss-making power distribution companies (discos) to boost revenue collection during the current financial year.
The hike is scheduled to come into effect from July 1, following a formal notification by Nepra after a public hearing.
Addressing the signing ceremony of a framework agreement between State Oil Company of Azerbaijan Republic (SOCAR) Trading and Pakistan LNG Limited (PLL), PM Shahbaz said, "63% of domestic consumers using up to 200 units per month will be exempted from the recent increase in electricity duty."
He said that partial subsidy is also being given to those consuming up to 300 units per month, which is about 31% of the total domestic consumers.
The Prime Minister said, "Due to the toughest conditions of the International Monetary Fund (IMF), the government had to increase the electricity prices, but I stressed that the burden should not be passed on to the protected sections of the society."
Talking about the framework agreement, under which SOCAR Trading has offered to supply one cargo of Liquefied Natural Gas (LNG) per month to Pakistan on flexible terms and a one-year contract with a credit line for 30 days after delivery of the cargo, which can be extended by another year, the premier said it is indeed a great day because "we stand here as brothers of two brother countries – Pakistan and Azerbaijan".
He expressed his best wishes to President Ilham Aliyev of Azerbaijan, whom he met a few weeks ago in Baku, and thanked him for finalizing the agreement.
"We had very fruitful and fruitful discussions there on how to promote economic relations between the two friendly countries," he said. Immediately after his return home, the Pakistan government allowed Azerbaijan Airlines to land in Islamabad, Lahore and Karachi, he said.
"This is a big step towards promoting tourism and investment and exchange of delegations between the two countries."
Speaking on the occasion, Ambassador of Azerbaijan said that the framework agreement would help in further strengthening bilateral economic ties.
He said that since the beginning of diplomatic relations, the cooperation between the two countries has remained durable.
The ambassador said that the approval of airspace to Azerbaijan Airlines will increase the number of visitors and business delegations between the two countries.
---
– with additional input from the APP