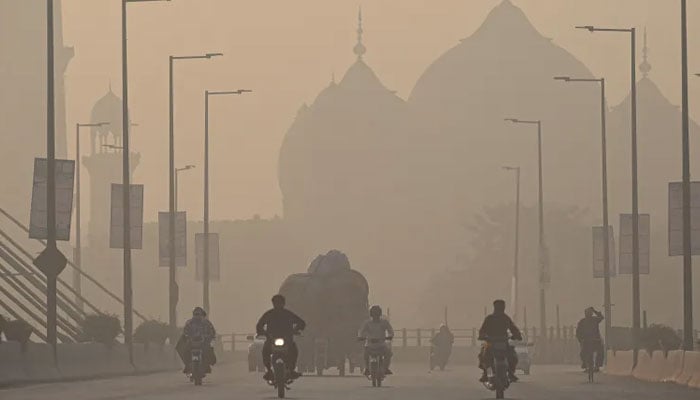 Court orders introduction of work-from-home policy for 2 days.
Judge asks interim govt to remove DCs in six districts.
"Most smog is caused by vehicle exhaust," judge says.
---
LAHORE: Justice Shahid Karim of the Lahore High Court on Monday ordered the government to close all schools and colleges on Saturdays in Punjab as the provincial authorities fail to curb smog.
The directives from the LHC judge came during a hearing today pertaining to measures taken by the Punjab government to control air pollution that has reached dangerous levels in recent days.
The judge, reprimanding the Lahore commissioner, also ordered the introduction of a work-from-home policy for two days a week.
"Commissioner Lahore has failed completely in controlling smog. He talks big but nothing happens on the ground. Just a notification is issued to shut everything," he remarked.
Justice Karim also ordered the immediate removal of deputy commissioners in Sheikhupura Jhang, Hafizabad, Khanewal, Nankana and Bahawalnagar, saying that the situation is very bad in these districts. He ordered the chief secretary of Punjab to immediately issue a notification to transfer the aforementioned officers.
The judge also ordered the removal of the director general environment.
"Videos of crop residual burning being shared are very disappointing," he said.
The judge remarked that everything is shut down through a notification, adding that all the officers go on leave after the government announcement.
The judge said the entire city gets disrupted if the traffic stops for five minutes. "Most smog is caused by vehicle exhaust."
The Lahore Development Authority (LDA) counsel said the provincial government constructed an underpass in just 70 days.
"The smog that will follow this construction will affect us through the winter. You may have become an underpass expert, but also consider other matters," he observed.
Justice Karim ordered the commission member to hold a meeting with the Punjab chief secretary and inform him about the court orders.
The court adjourned the hearing till Wednesday.
Last week on November 8, the Punjab government announced a public holiday on November 10 (Friday) in Lahore, Gujranwala and other districts due to prevailing smog in the province, announcing the closure of all markets, shopping malls, restaurants, cinemas, gymnasiums, schools and public and private offices.
Later, the provincial government lifted the lockdown after a heavy spell of rain in parts of Punjab on Friday which washed away the smog, subsequently improving the air quality.