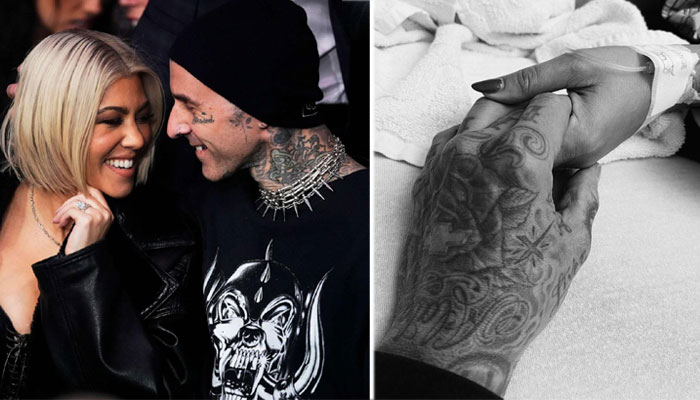 Kourtney Kardashian has caused the entire Kardashian-Jenner fandom as well as netizens alike, to erupt in a fiery blaze all over social media.
News of baby Baker's arrival was announced earlier this day and has since lit Twitter ablaze.

Some have even started to link the baby's zodiac sign with the Kardashian-Jenner fam and said, "Kourtney Kardashian and Travis Barker having a Scorpio baby boy is the most on brand thing the family has ever done".
Others also jumped the bandwagon as well and started flooding the app with mems and gifs around the same theme, "Not Kourtney Kardashian and Travis Barker having a Scorpio baby".
However, there was also others who began speculating a possible separation and added, "How long until they break up and leave the child in a split family?"
Others seemed more concerned with the baby's possible name and another even went as far as to say, "Congrats! After naming him after a dog lmao!'
For those unversed, Barker previously got candid about the baby name in question for Complex's GOAT Talk video series with during an interview with his daughter, Alabama.
There he admitted, "Rocky George played guitar for Suicidal Tendencies, and 13 is just the greatest number of all time."


This news has come just a few weeks before Kourtney was rushed into the hospital for a "medical emergency" which was related to her pregnancy.
Shortly after the discharge she also turned to social media to pen a letter of thanks for the 'incredible' team of doctors.
It read, "I will be forever grateful to my incredible doctors for saving our baby's life. I am eternally grateful to my husband who rushed to my side from tour to be with me in the hospital and take care of me afterwards, my rock. And to my mom, thank you for holding my hand through this."