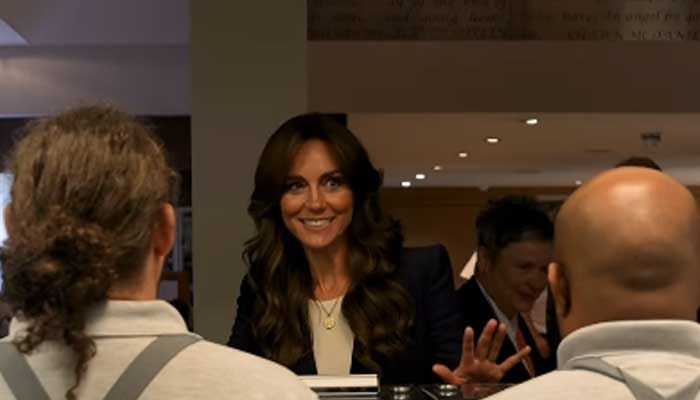 Kate Middleton on Tuesday met prisoners during her visit to a charity that helps people with drug and alcohol dependence.
Interestingly, her visit came amid criticism Prince Harry has received for allegedly refusing to acknowledge an event in honor of a Prisoner of War.
The Duke of Sussex, who is in Germany with his wife Meghan Markle for the Invictus Games, was criticized by the granddaughter of James Mclean, a prisoner of war.
 She claimed that the son of King Charles refused to acknowledge an occasion pertaining to "World War II Far East Prisoner of War (FEPOW).
In an open letter, she wrote:
"The Duke of Sussex, founder of the Invictus Games and a passionate advocate for veterans, was recently contacted regarding a rare occasion in his Dukedom. This occasion pertained to a remarkable World War II Far East Prisoner of War (FEPOW), who lay in an unmarked grave for 40 years , one of the two pipers who valiantly piped the troops over the Johore causeway, endured the harrowing conditions of the Death Railway and coal mines, and miraculously survived the bombings of three Hell ships. Unfortunately, despite the significance of this event, it is deeply disheartening to note that the Duke of Sussex, when contacted to mark this occasion, did not even provide a short letter of acknowledgment. Respect, a core value of the Invictus Games, is a principle we hold dear, and it is our hope that such instances will be met with the recognition and gratitude they deserve. The lack of acknowledgment from the Duke of Sussex in this particular case highlights a disconnect between his commitment to veterans' causes, symbolized by the Invictus Games and its moto "I am, you are, we are Invictus," and the actions taken to honor the sacrifices of those who served. In the face of this extraordinary story of resilience and courage displayed by the WW2 FEPOW piper, whose experiences are etched in the annals of history, the absence of a simple letter or gesture of acknowledgment is all the more disconcerting.
"It is crucial for public figures, especially those who champion noble causes like supporting veterans, to not only preach the values of respect and gratitude but also to actively demonstrate them in their actions. The Duke of Sussex's involvement in the Invictus Games and veterans' advocacy positions him as a role model, and such a role comes with the responsibility of recognizing and honoring the sacrifices made by veterans, especially in rare and significant instances like this one."
A day after Harry was criticized, Kate Middleton visited The Forward Trust.
The caption accompanying the video of her trip on the Instagram account of the Prince and Princess of Wales read, "A fascinating visit to HMP High Down to meet with prisoners and their loved ones and hear about the remarkable work The Forward Trust does to support them."
It added, "Thank you to those who shared their stories, and to Mike Trace from The Forward Trust, for speaking about the organisation's unwavering commitment to rehabilitation and for giving hope to those who need it."