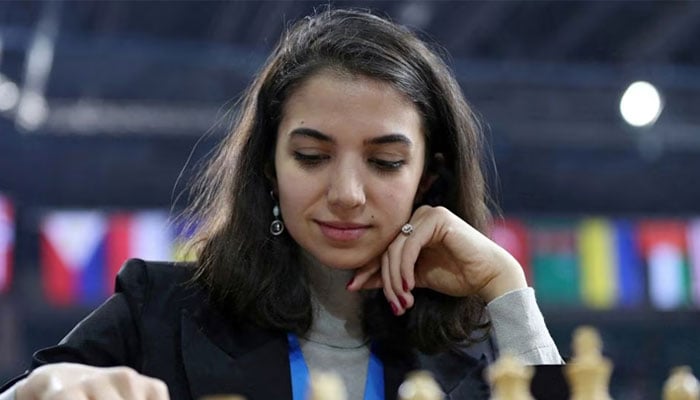 Spain reported on Wednesday that an Iranian chess player who relocated to the country in January after competing without a hijab and receiving an arrest notice at home had been awarded Spanish citizenship.
Sara Khadem, also known as Sarasadat Khademalsharieh, refused to wear the headscarf required by Iran's strict dress standards when she competed in the FIDE World Rapid and Blitz Chess Championships in Kazakhstan in late December last year.
When Mahsa Amini, an Iranian-Kurdish lady, 22, died in the morality police's care in the middle of September, laws requiring women to wear the hijab became a flashpoint during the upheaval that gripped Iran.
The 26-year-old told Reuters she had no regrets about her act in support of the anti-clerical leadership protest movement in her nation.
According to the official Spanish gazette, the government decided to award citizenship to Khadem on Tuesday "taking into account the special circumstances" of her situation.
Following her arrival in Spain, Khadem wrote on Instagram, "My emigration is a family decision. I have not applied for asylum here.
"Because of my sporting successes and my husband's multiple nationalities, I was never concerned about a right of residence abroad."
The chess grandmaster could be able to reach new sporting heights with the help of her newly adopted nation.
"For the last three years, I was barred from leaving the country. As a result, I missed important tournaments and championships," she has pointed out.
Despite her "new beginnings", the women's world No. 17, however, hasn't ruled out a return to her home country.
 "Iran remains my primary home. I will certainly return to my homeland with my family as soon as the appropriate time comes," she said.
According to DW, Khadem is the fifth Iranian chess star to emigrate in recent years, joining Mitra Hejazipour, Ghazal Hakimifard, Atousa Pourkashiyan, and Dorsa Derakhshani who emigrated for various reasons.
 Pourkashiyan and Derakhshani now play for the US team, Hakimifard for Switzerland, and Hejazipour for France.