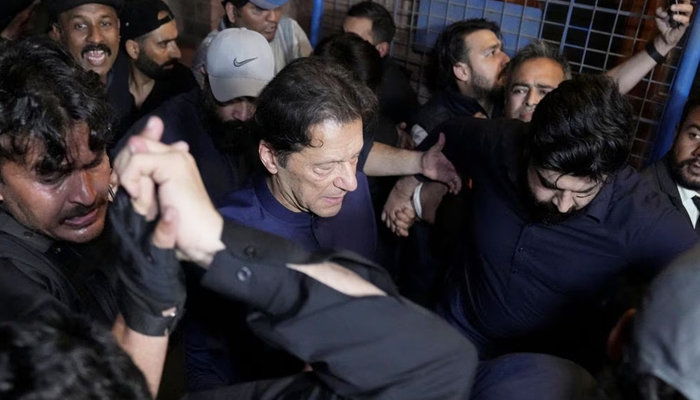 Imran Khan signed power of attorney, says lawyer after meeting in jail.
Appeal against the Toshakhana verdict will be filed tomorrow: Panjotha. 
"PTI chief said he should be allowed to meet wife in Attock jail."
---
Pakistan Tehreek-e-Insaf (PTI) Chairman Imran Khan's counsel Naeem Haider Panjotha has claimed that his client has been provided C-class facilities and kept in "poor condition" in Attock jail.
Panjotha, the PTI chief's counsel, said this on Monday after meeting his client in prison.
Khan, the deposed prime minister, was arrested on August 5 after a district and sessions court in the federal capital convicted him for corrupt practices related to the state gift depository — allegations which he denies.
"Charges of misdeclaration of assets have been proven against PTI chairman," Judge Humayun Dilawar wrote in his judgment, handing Khan three years in jail, along with a fine of Rs100,000, while issuing an arrest warrant for his immediate arrest.
After his arrest, Khan was moved to Attock jail.
In today's media talks, Khan's lawyer said the former prime minister, who was removed from power via a parliamentary vote last year, was provided with a small room "which has an open washroom".
Elaborating on the poor conditions of the cell, the lawyer said the jail cell was infested with flies and bugs where the PTI chief is being kept.
"The PTI chairman says he is ready to spend his whole life in jail," the lawyer added.
Panjotha further said that Khan told him that police did not show him an arrest warrant at the time of arrest and tried to break the door of his wife Bushra Bibi's room.
The PTI chief has also said that he should be allowed to meet his wife in prison, the counsel added.
Panjotha said the appeal against the trial court verdict will be filed tomorrow (Tuesday) and the PTI chief has signed the power of attorney.
Earlier today, the PTI petitioned the Islamabad High Court (IHC) to transfer party chief Imran Khan from Attock Jail to Adiala Jail, adding that given his "education, habits and social and political status", he ought to be provided better or A-class facilities in jail.
"Since childhood, the petitioner is from an affluent family, and later due to his education, habits, and social and political status in the society, has got accustomed to a better mode of life… is a graduate of Oxford University, UK and the … captain of Pakistan national Cricket…," the petition read.
"Keeping in view the petitioner's social and political status, his education, and his being accustomed to a better living style, the Petitioner was entitled to A-class facilities in terms of Rule 243 read with Rule 248 of Pakistan Prison Rules."