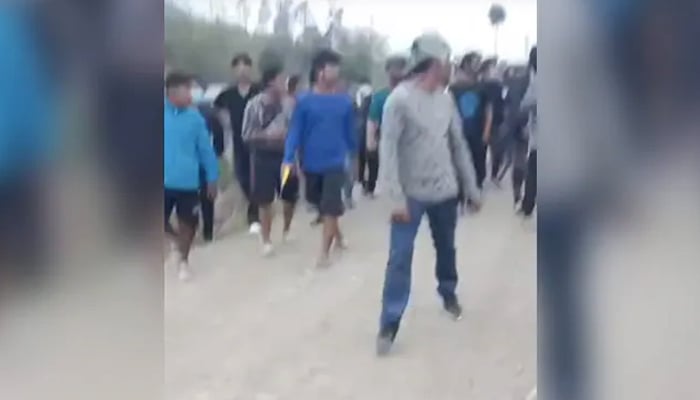 The Bharatiya Janata Party (BJP) government in Manipur on Wednesday came under fire for its failure to contain the violence after a horrifying video of two women being allegedly gang-raped and paraded naked on a street by a group of men surfaced on social media.
According to a tribal organisation, the women were gang-raped on May 4 at a farm in Kangpokpi district, about 35 km from state capital Imphal.
At least 80 people have been killed and more than 40,000 have fled their homes since ethnic and sectarian clashes between ethnic groups broke out in the violence-hit region in early May.
Manipur Chief Minister Biren Singh said on Twitter that the state police had made the first arrest in the case, without specifying how many people had been arrested.
"A thorough investigation is currently underway and we will ensure that strict action is taken against all the culprits, including the possibility of capital punishment," Singh said.
The Indian Supreme Court stated that it was deeply disturbed by these photographs and asked the government to inform the court of the steps taken to apprehend the perpetrators and ensure that such incidents do not recur.
Chief Justice of India DY Chandrachud said, "This is unacceptable in a constitutional democracy."
Meanwhile, Indian PM Narendra Modi said that the incident has filled his heart with sadness and anger.
"Any civil society should be ashamed of this," he said before the Parliament session.
Manipur incident condemned
Political leaders and others have expressed grief over the incident in Manipur and demanded immediate action on this gruesome incident.
Congress leader Priyanka Gandhi Vadra said on Twitter that the pictures of sexual violence against women coming from Manipur are heart-wrenching.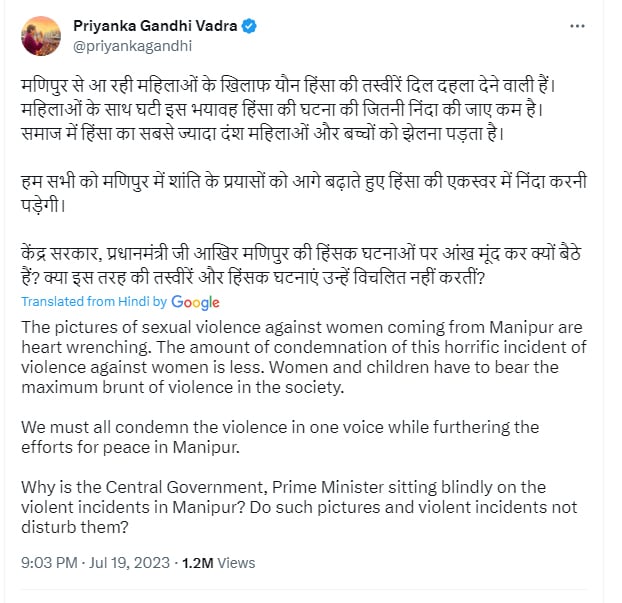 He tweeted, "No amount of condemnation is enough for this horrific incident of violence against women. Women and children bear the brunt of violence in the society."
Tripura's Tipra Motha Party chief Pradyot Bikram Manikya Debbarma lamented that hatred has won in Manipur.
"Disturbing videos of a woman from a particular community being paraded naked by a mob are emerging from Manipur. There is a complete breakdown of relations between the two communities."
Describing the incident as "horrible", Indian minister Smriti Irani said that the sexual assault video from Manipur is condemnable and completely inhuman.