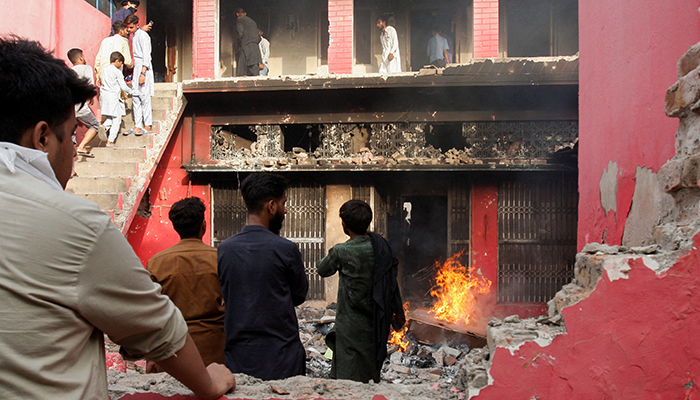 Punjab govt calls it "well thought out plan" to disrupt peace.
Authorities say 100 people had been arrested so far.
US deeply concerned churches and homes were targeted.
---
LAHORE: The interim Punjab government has ordered a high-level inquiry after a mob set fire to a number of churches and vandalised Christians' homes during a rampage on Wednesday, with authorities saying over 100 people had been arrested.
The mob made its way through a predominantly Christian area on the outskirts of the industrial city of Faisalabad after allegations spread that the Holy Quran had been desecrated.
"This was a well thought out plan to disrupt peace and a high-level investigation is underway regarding the desecration of the Holy Quran and incidents that take place afterward," a spokesperson for the provincial government said in a statement.
The spokesperson said police "foiled" the bid to attack the homes of the minorities and that the "peace committee" mobilised to ensure similar attempts are thwarted.
"The frequency and scale of such attacks — which are systematic, violent and often uncontainable — appear to have increased in the last several years," said the Human Rights Commission of Pakistan.
The rights group called for the setting up and equipping of special police forces to protect religious minorities' sites of worship, as directed by a 2014 Supreme Court judgment.
Caretaker Prime Minister Anwar ul Haq Kakar called for stern action against those responsible for Wednesday's violence. "I am gutted by the visuals coming out," he said.
Police and rescue officials said at least four churches had been set on fire, while residents said as many as a dozen buildings with church status had been damaged.
Several thousand police have been sent to secure the area and dozens of people detained, Amir Mir, the information minister for Punjab province, said in a statement that also condemned the alleged blasphemy.
Yasir Bhatti, a 31-year-old Christian, fled his home in a narrow alley next to one of the churches that was ransacked by the mob.
"They broke the windows, doors and took out fridges, sofas, chairs and other household items to pile them up in front of the Church to be burnt. They also burnt and desecrated Bibles, they were ruthless," he told AFP by phone.
Blasphemy is a sensitive issue in Pakistan, where anyone deemed to have insulted Islam or Islamic figures can face the death penalty.
Pakistani bishop Azad Marshall, in the neighbouring city of Lahore, said the Christian community was "deeply pained and distressed" by the events.
"We cry out for justice and action from law enforcement and those who dispense justice and the safety of all citizens to intervene immediately and assure us that our lives are valuable in our own homeland," he posted on X, formerly known as Twitter.
The United States on Wednesday urged Pakistan to investigate mob attacks against churches and Christian homes that broke out in the east of the country amid blasphemy rumors.
"We are deeply concerned that churches and homes were targeted in response to reported Quran desecration in Pakistan," State Department spokesman Vedant Patel told reporters.
He said that while the United States backed free expression, "violence or the threat of violence is never an acceptable form of expression."
"We urge Pakistani authorities to conduct a full investigation into these allegations and call for calm," he said.