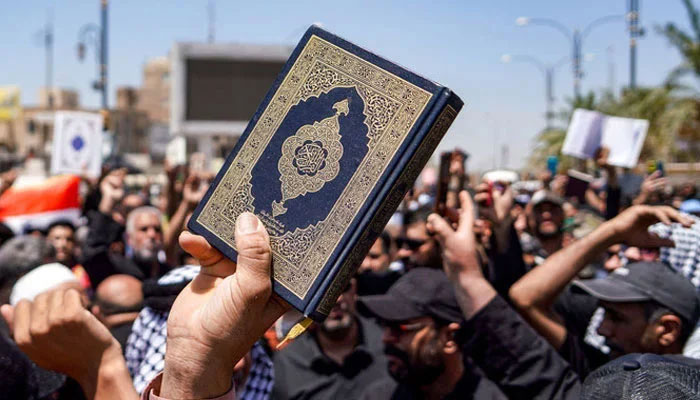 In yet another vicious incident that hurt the religious feelings of Muslims worldwide, a group of protesters burned a copy of the Holy Quran outside Royal Palace in Sweden's capital in the presence of a heavy police contingent.
The heart-wrenching incident, which took place on Monday, was the second such incident within weeks in which individuals desecrated the holy book.
It is to be noted that the desecration of holy books is legally permitted under Sweden's freedom of speech laws.
The event unfolded at Mynttorget, a central square encircled by government edifices and the royal palace. They used a megaphone, used to provoke counter-protesters.
Former Prime Minister Shehbaz Sharif condemned the repeated incidents and said: "Yet another incident of the desecration of the Holy Quran, this time in front of the royal palace in Sweden is highly disturbing. The recurring nature of such reprehensible incidents establishes that there is a vile, sinister and evil intention behind them that aims at hurting the emotions of Muslims around the world. Equally disturbing is the lack of action on the part of the Swedish government to check such incidents through strict enforcement of the law."
He added that a mere expression of regret and condemnation is not enough. "Let this be understood that the desecration of religious symbols, holy personages and Books damages the interfaith harmony that the world so desperately needs," said the former PM.
However, on this occasion, the duo faced considerable resistance from the crowd, as numerous individuals arrived with their own megaphones, effectively drowning out the provocative act.
The geopolitical implications of such acts are far-reaching. Over the course of this year, multiple Quran burnings have taken place in both Sweden and Denmark, evoking strong reactions from Muslim nations.
These countries have urged the governments of Sweden and Denmark to address these incidents.
Moreover, security concerns have arisen for Swedish citizens abroad. Notably, the Swedish embassy in Iraq was stormed and set on fire last month by protesters.
Additionally, the UK's Foreign, Commonwealth, and Development Office has issued a travel advisory, cautioning against travel to Sweden due to potential terrorist threats following these incidents.
Despite the controversies, the Swedish government has opted not to make comprehensive changes to its freedom of speech laws.
However, authorities have indicated a willingness to explore measures that would enable police intervention to prevent the public burning of holy books if national security is deemed at risk.