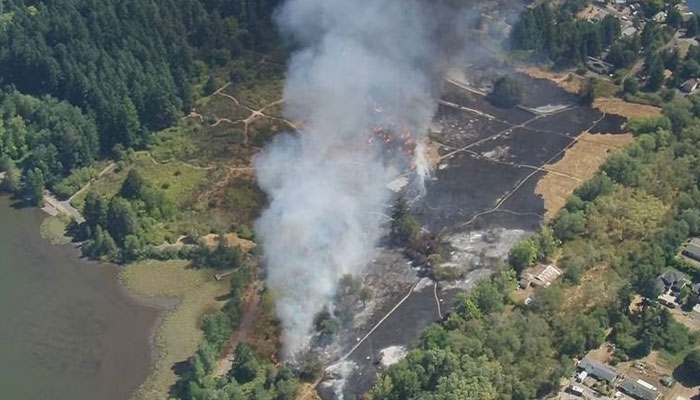 LAKEWOOD: Evacuation orders are in effect in Lakewood as a brush fire originating from Fort Steilacoom Park continues to threaten the area. 
Residents are being urged to evacuate immediately as firefighting teams intensify efforts to control the rapidly spreading blaze.
The fire, which ignited near Waughop Lake, has quickly advanced toward neighbouring communities, triggering swift action from the Lakewood Police Department. West Pierce Fire & Rescue is leading evacuation initiatives for residents within a five-mile radius, prioritizing their safety.
Approximately 40 homes are at risk as the fire gains momentum, prompting a three-alarm response from firefighting units. Concerns over the fire's swift progression have led to urgent evacuation orders for affected areas.
Residents within the following regions are advised to evacuate without delay:
98th Street east of Farwest Drive
Area between 98th Street and 99th Street
East of Farwest Drive, encompassing Farwest Drive to Fort Steilacoom Park
Area between Farwest Drive and Fort Steilacoom Park
North of 101st Street (Lake Louise Drive)
100th Avenue
No injuries have been reported, thanks to swift resident compliance with evacuation directives.
The cause of the blaze is so far unknown, prompting an investigation into its origin and rapid spread. To bolster firefighting operations, the Washington Department of Natural Resources has joined forces with West Pierce Fire & Rescue.
While evacuation orders remain voluntary, residents living near Fort Steilacoom Park are strongly urged to evacuate to ensure their safety. The collaborative efforts of firefighting agencies, including West Pierce Fire & Rescue and the Washington Department of Natural Resources, underscore the community's commitment to preserving lives and property.
KIRO 7, a local news source, has dispatched a dedicated team to Lakewood to provide ongoing updates on the fire's development, evacuation efforts, and coordinated response.