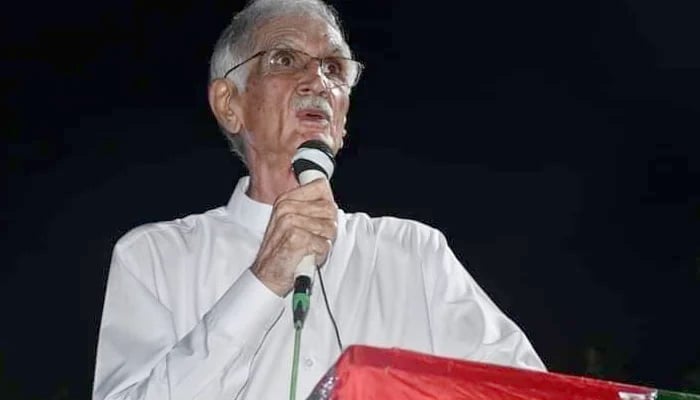 Former Chief Minister of KP Mahmood Khan joined the party.
About 57 former MLAs are also joining the new party.
Khattak was ousted from PTI earlier this week.
---
Peshawar: Pervaiz Khattak, an aide of former prime minister Imran Khan, has formed a new party Pakistan Tehreek-e-Insaf (PTI) Parliamentarians, days after he was expelled from PTI, sources said. geo news monday.
Sources said former Khyber Pakhtunkhwa chief minister Mahmood Khan and former legislators Shaukat Ali and Syed Muhammad Ishtiaq Urmar are among the 57 former assembly members who have joined the party.
The development comes as the Khan-led PTI is in crisis, with its chairman facing multiple cases and the threat of disqualification, while several party leaders have deserted him after May 9 – which Day PTI workers wreaked havoc in the country and attacked army establishments.
Khan's former allies have also hurt his party in Punjab as Jahangir Tareen, Aleem Khan and others considered close to the PTI chief formed the Istehkaam-e-Pakistan party in June.
Khattak said he condemns the events of May 9 – for which many suspects will face severe punishment as the government and the army are determined to try them in military courts.
"Our existence is directly linked to Pakistan. The PTI is now completely finished in Khyber Pakhtunkhwa," said the former provincial chief minister, who holds a key position in the province's politics.
Khattak, who served as PTI's general secretary and chief minister of Khyber Pakhtunkhwa during the PTI government, left the post of PTI KP chairman soon after the May 9 pogrom.
However, earlier this week, the party sacked him for failing to respond to "show cause notices" issued to him.
sources told news Pakistan Muslim League-Nawaz (PML-N) and Pakistan People's Party (PPP) had also approached Khattak and asked him to join their parties.
However, Khattak has decided to form his own political party instead of joining any other.
The move is a major setback for PTI as it seeks to retain power and form the government in the upcoming general elections.
Prime Minister Shehbaz Sharif said his government's term would end in mid-August, and he was planning to leave before his scheduled term.