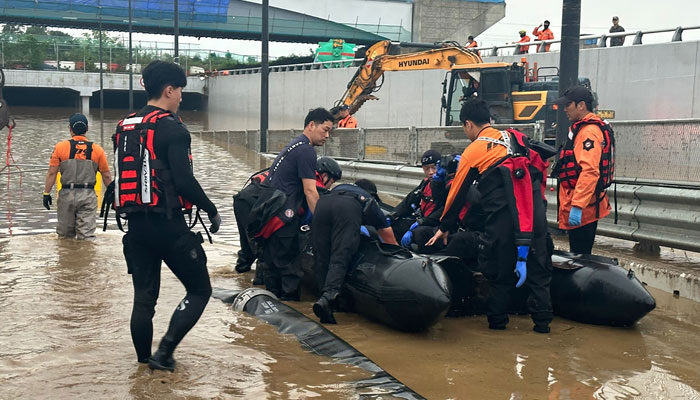 Rescue workers recovered nine bodies from cars stuck inside a flooded tunnel in the South Korean city of Cheongju, as days of heavy rain submerged buildings and trapped many people inside.
So far, officials have indicated that at least 37 people have lost their lives as torrential rains, landslides and power cuts plunged most of the country into darkness.
Earlier, officials had said that nine people were reported missing.
It is unknown how many passengers and drivers are trapped under the 685-metre-long submerged tunnel in the city of Osong, however, it is said to contain 15 vehicles.
Some bodies were taken out in a bus while nine people were rescued on Saturday.
Other deaths were reported from mountainous areas in the North Gyeongsang region, where landslides briefly destroyed homes.
About 300 mm (11.8 in) of rain has been reported across South Korea on Saturday.
The Korean Meteorological Association said the country typically receives 1,000 mm (39.4 in) to 1,800 mm (70.9 in) of rain per year, mostly in the summer season.
Approximately thousands of residents have been affected due to the evacuation by various local governments. Prime Minister Han Duck-soo also asked the military to help with the efforts.
According to reports, more than 6,000 residents have been evacuated after the Goesan Dam in North Chungcheong overflowed.
Low-lying areas and residences were flooded, trapping residents in their homes.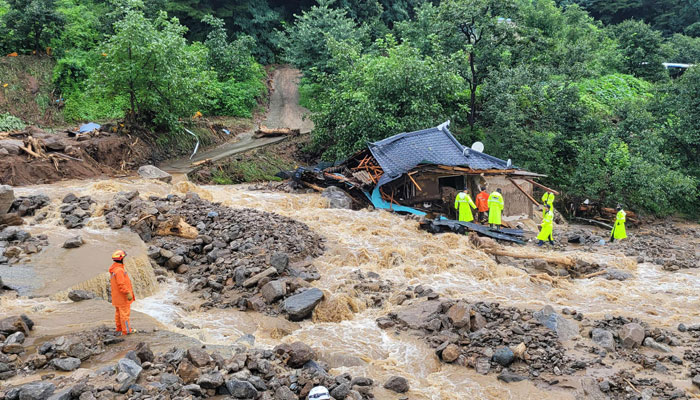 A landslide incident on Friday derailed a train without any passengers in North Chungcheong, injuring one person.
South Korea's rail operator Korail announced the suspension of all slow trains and some bullet trains, saying other bullet services would be disrupted.
The Korea Meteorological Administration forecast more rain until Wednesday next week. It also issued a warning that the weather conditions pose a "serious danger".
Similar intense weather conditions and devastation have caused floods and landslides in other countries such as India, China and Japan in the past weeks.
According to scientists, the warming atmosphere due to climate change increases the chances of extreme rainfall.