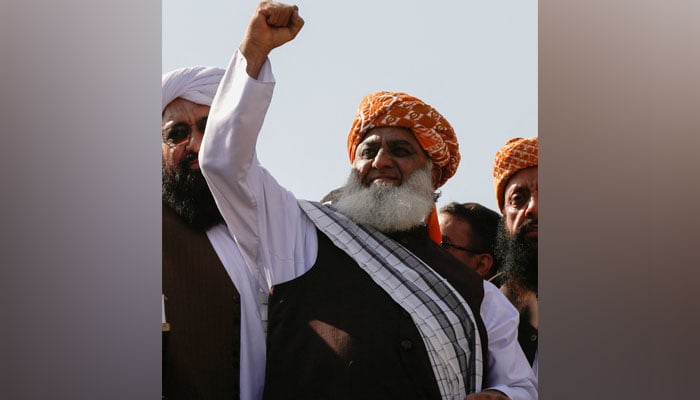 JUI-F chief to meet Hamas leaders Ismail Haniyeh, Khaled Mashal.

Fazl to also meet Arab leaders to ensure aid reaches Gaza.

JUI-F spokesperson had confirmed Fazl's departure from Pakistan.
---
ISLAMABAD: As the war in Gaza shows no sign of stopping, Jamiat Ulema-e-Islam-Fazl (JUI-F) chief Maulana Fazlur Rehman has arrived in Qatar to meet the Hamas leadership, sources told Geo News on Sunday.
According to the sources, the JUI-F chief will meet Qatar-based Hamas leader Ismail Haniyeh and former chief of the resistance group Khaled Mashal.
During the trip, it is expected that Fazl will also reach out to the Arab world leadership to find a way to provide aid to Gaza where a severe humanitarian crisis has unfolded after Israel attacked Gaza following the October 7 attack by Hamas.
The sources had shared that the JUI-F leader had left for Qatar from Pakistan to meet the Hamas leadership and find a way to ensure aid reaches Gaza between Friday and Saturday.
Earlier today The News had reported citing sources close to the JUI-F chief that he had left for Gaza to provide assistance to the besieged Palestinians.
JUI-F spokesman Aslam Ghauri confirmed to the publication that the Pakistan Democratic Movement (PDM) president had left for Gaza but did not share any details regarding the visit.
The sources said Fazl was the first religio-political leader from any Muslim country who has embarked upon the war zone.
The party said that "the movement of Maulana Fazl has been kept secret since he wanted to reach the devastated people quietly and offer them assistance". He is carrying food and medicines with him, the sources had told The News.
The publication said that after addressing a mammoth rally "Toofan Al-Aqsa March" in Karachi and "Sindh Aman Conference", Fazl left for "some destination" from where he would reach the oppressed people of Gaza.
Israel's offensive continues
Israel's war on Palestinians and an ongoing bombardment of the Gaza Strip continues to escalate the humanitarian crisis.
The Benjamin Netanyahu-led occupation forces have intensified their ground operation and bombardment in Gaza for almost the last four weeks killing thousands of Palestinians including children.
For its relentless attacks, Israel accuses Hamas of hiding among civilians and has been using this explanation as an excuse when it faces criticism for targeting besieged civilians.
With Turkey being the latest to recall its envoy from Israel, many countries have also cut their diplomatic ties with Tel Aviv, whose forces have besieged Gaza for 17 years.
Global powers, including the United States and the UN, have called on Israel to ensure that civilian casualties are avoided in its continuing pursuit to eliminate Hamas, but to no avail.
The UN is also calling for an immediate ceasefire to at least allow aid to flow smoothly to the war-torn strip and permit the exchange of hostages.
Israeli PM Netanyahu, however, has ruled out halting his forces' assault on Gaza and stressed that they would continue to pound the Hamas-run enclave.