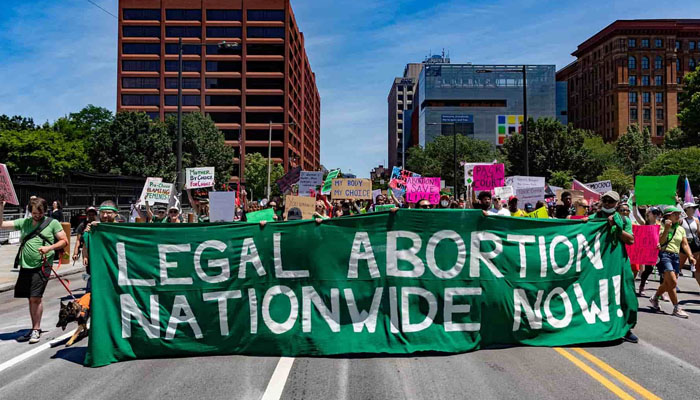 The future of abortion rights in Florida will be announced by the Supreme Court over arguments on whether the US Constitution protects women's right to end pregnancies on Friday.
The case before the conservative Florida Supreme Court concerns the state's current ban on most abortions after 15 weeks, which took effect after the US Supreme Court last year overturned a national right to abortion.
The outcome will also determine the fate of a stricter six-week ban, which has been on hold since Governor Ron DeSantis signed it into law in April. Under a "trigger" provision, the law would take effect only if the court upholds the 15-week restriction.
The case carries significant consequences for abortion access throughout the South. Most of Florida's neighboring states have installed even more stringent limits, reported Reuters.
Out-of-state residents accounted for 9% of the 44,475 abortions performed in Florida this year through July, up from 6.1% in 2021 and 8.1% in 2022, when states began imposing new bans following the Supreme Court's decision, according to state data.
DeSantis, who is running for the 2024 Republican presidential nomination, has faced criticism from some wealthy supporters for backing the six-week ban, which they view as too extreme. He has sidestepped questions about whether he would support a national ban as president.
Democrats are expected to put abortion at the center of next year's campaign after the issue helped them avoid major losses in the 2022 midterm elections.
At issue in the case on Friday is whether a voter-approved guarantee of the right to privacy in the state constitution should still extend to abortion, as the Florida Supreme Court ruled in 1989.
Lawyers for the DeSantis administration have asserted that the 1989 case should be overturned. The group of abortion providers who filed the lawsuit, including Planned Parenthood, have argued that there is no legal basis to do so.
Most legal observers expect the conservative court to side with DeSantis and uphold the 15-week ban.
Five of the Florida Supreme Court's seven justices are DeSantis appointees; the other two were appointed by former Governor Charlie Crist, who was a Republican at the time but has since switched parties. One justice, Charles Canady, is married to a state representative who co-sponsored the six-week ban.
"If the Florida Supreme Court is being faithful to its own precedent, it's actually an easy case: the 15-week ban should be found unconstitutional under the Florida state constitution," said Ciara Torres-Spelliscy, a law professor at Florida-based Stetson University.
But if the court throws out the 1989 decision, Torres-Spelliscy said, it would be nearly impossible to mount a successful legal challenge to the six-week ban.
Activists are pursuing an alternative track, collecting signatures for a potential 2024 referendum that would ask voters to add explicit abortion protections to the state constitution.