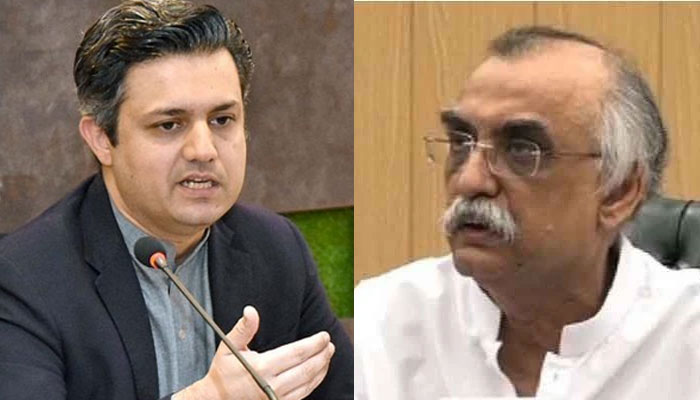 Zaidi sought support for ending tax exemption for steel industry: Azhar.
Rejects ex-FBR chief claims he supported his proposal for vested interest.
 PTI dismisses former FBR chief claims as "contrary to the facts".
---
Reacting to the recent revelations made by Federal Bureau of Revenue (FBR) ex-chairman Shabbar Zaidi about the economic mismanagement of the previous PTI-led government, the former ruling party's leader Hammad Azhar on Saturday said that the former head of the tax collection body has "either lost his memory or trying to appease someone".
Zaidi, speaking on Geo News programme "Aaj Shahzeb Khanzada Kay Sath', claimed that the country would have faced economic collapse if the Imran Khan-led government completed its tenure.
"Had this [PTI] government continued, the party would not have even secured 5% votes as the country would have economically collapsed," he had said.
In a statement on Saturday, Azhar claimed that Zaidi wanted to end tax exemption for the steel industry in the former tribal areas of Khyber Pakhtunkhwa (ex-FATA) and in this regard, he had sought his support.
The former minister also rejected the ex-FBR chairman's claim that he backed Zaidi's proposal for his own interest and then prime minister Imran Khan turned it down.
PTI dismisses Zaidi's claims
Earlier today, the former ruling party reacted to the revelations made by former Federal Bureau of Revenue (FBR) chairman, dismissing it as a "disappointing attempt to create a distorted view of PTI's economic strategy" and termed it "contrary to the facts."
Taking exception to the claims, PTI, on its Twitter, mentioned that Zaidi's comments were "contradictory, baseless, and a sign of a confused mind".
In the tweet, the PTI stated that if Shabbar Zaidi's claims are taken as genuine, then he himself is also responsible for this.
The former FBR chief said he had advised the then-prime minister to rectify his government's shortcomings and "settle things, but he was not in the mood of listening [to anyone]".
Commenting on the objections raised by the ex-FBR chief about the PTI's economic strategy, the party wrote that they were never mentioned in Zaidi's resignation when he quit the top FBR post in 2020 — months after he assumed office on May 10, 2019.
The PTI, in its lengthy tweet, asked Zaidi to have looked at facts before criticising with a "confused mind".
"Instead of trying to attract attention by making baseless accusations, Shabbar Zaidi should talk on the basis of facts," the tweet read.
The party advised him to study the government's annual economic survey and the International Monetary Fund report.
"The revival of Pakistan's economy is possible not by insisting on untrue claims and lies, but by accepting the reality and being willing to correct mistakes," it added.