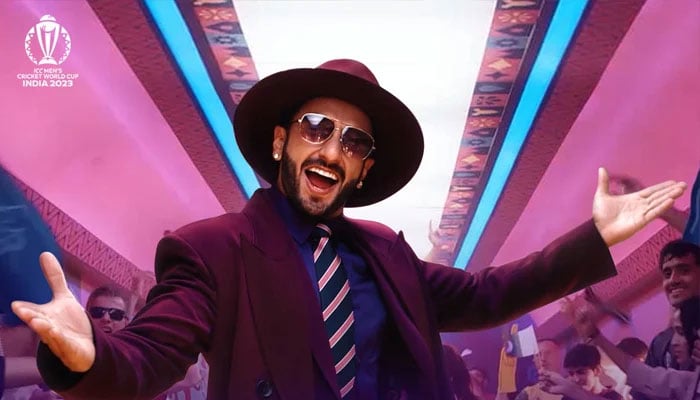 Titled "Dil Jashn Bole" the official anthem for the International Cricket Council (ICC) World Cup 2023 is set to be released tomorrow (Wednesday).
"The greatest cricketing Jashn is almost here, 12pm IST tomorrow [Wednesday]," read the announcement made via ICC's official X account, formally known as Twitter.
The song "Dil Jashn Bole" starring famous Bollywood actor Ranveer Singh, is composed by noted music director Pritam Chakraborty.
As cricket fans gear up for the ICC Cricket World Cup, the release of "Dil Jashn Bole" is set to become a significant milestone in the countdown to this prestigious tournament.
The anthem's release promises to unite fans across borders and ignite the passion for cricket as teams from different nations compete for the coveted ICC Cricket World Cup trophy.
The 2023 ICC Men's Cricket World Cup will commence with defending champions England facing New Zealand at Narendra Modi Stadium in Ahmedabad, India on October 5.
The Green Shirts' will play a total of 11 matches in the World Cup, with four of them, including two warm-up matches and two group games, scheduled to take place in Hyderabad.
The Men in Green are expected to arrive in Hyderabad via Dubai on September 27 to kick off their World Cup campaign on October 6 in Hyderabad against the Netherlands.
Pakistan's schedule for the ICC World Cup 2023:
October 6 – vs Netherlands in Hyderabad
October 10 – vs Sri Lanka in Hyderabad
October 14 – vs India in Ahmedabad
October 20 – vs Australia in Bengaluru
October 23 – vs Afghanistan in Chennai
October 27 – vs South Africa in Chennai
October 31 – vs Bangladesh in Kolkata
November 4 – vs New Zealand Bengaluru (Day match)
November 11 – vs England in Kolkata
The day matches will start at 10:00 am Pakistan Standard Time (PST) while all other matches will be day-night fixtures starting at 01:30pm (PST).
If Pakistan qualify for the semi-finals, they will play in Kolkata.
If India qualifies for the semi-finals, they will play in Mumbai unless playing against Pakistan, in which case they will play in Kolkata.