"There's no use of an election if the results are pre-decided," PPP Chairman Bilawal Bhutto-Zardari says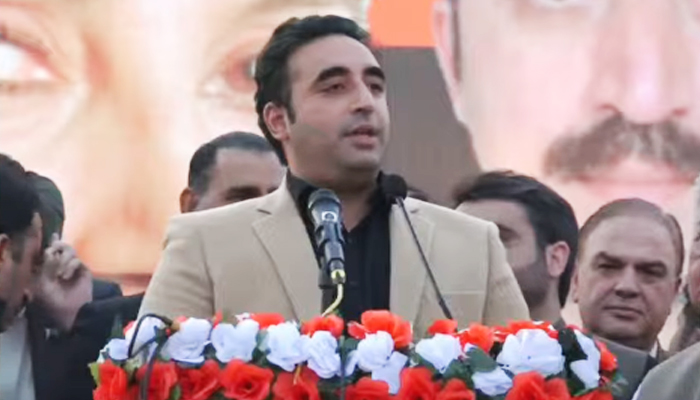 PPP Chairman Bilawal warns against pre-decided polls.
He says will only accept nation's decision in elections.
However, Zardari seems confident of transparent polls.
---
Pakistan Peoples Party's (PPP) top leaders' statements about the credibility of the upcoming polls apparently indicate contrast in the party's policy as Asif Ali Zardari is hopeful of transparent polls while his son Bilawal Bhutto-Zardari raises concerns about manipulation of the results and rigging.
A day after PPP Co-chairman Zardari said the country was moving towards transparent polls, PPP Chairman Bilawal hinted that the results of the poll might have been pre-decided.
"The country is moving towards transparent elections," Zardari had said in a recent statement amid PPP's calls for a "level-playing field", saying that the caretakers — appointed to oversee the country's affairs till an elected government takes charge — were favouring the Pakistan Muslim League-Nawaz (PML-N).
In his address to a rally in Nowshera on Monday, Bilawal warned that his party would not accept the elections if anyone interfered with the results, reiterating his demand for transparent polls.
"Parties with a 2/3 majority say they have reached an agreement [regarding upcoming set up]," Bilawal said, without elaborating further about who had made a deal with whom.
"There's no use of an election if the results are pre-decided," Bilawal warned, noting that if anyone becomes the prime minister, then others will protest and hold sit-ins against the newly formed government.
Pakistan has a history of parties not accepting results and alleging outside interference after the announcement of results, with the winning candidates saying that the polls were transparent.
"We will only accept the choice of the people, not anyone else's," Bilawal stated, noting that the only solution out of the quagmire for the country is "transparent polls".
The Election Commission of Pakistan has announced February 8, 2024, as the date for general polls across the country, with the PML-N also holding meetings with politicos to strengthen its position ahead of the polls.
In a similar stance, the Pakistan Tehreek-e-Insaf (PTI) has also called for a level-playing field, saying that authorities were not permitting the party to carry out electioneering as its chairman, Imran Khan, remains incarcerated.
The PPP, however, has also said recently that no one the elections credibility would come under question if PTI was not allowed to participate.