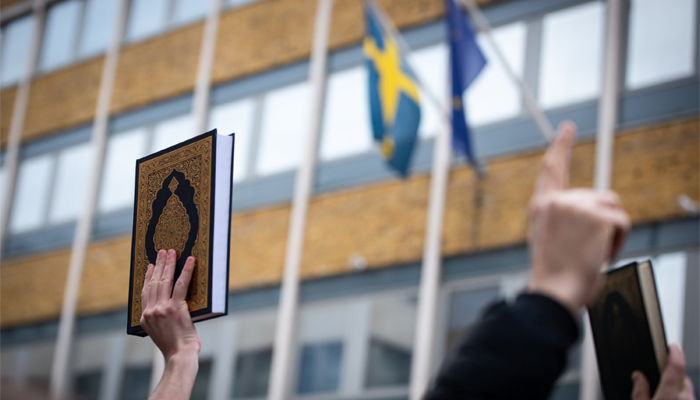 Just a day after protesters in front of the Iraqi embassy in Denmark desecrated the holy book, more copies of the Quran were burned in front of the Egyptian and Turkish embassies in Copenhagen on Tuesday, angering Muslims around the world.
In a statement indicating a clean-chit to perpetrators of such acts under so-called freedom of expression, Denmark and Sweden said they condemn the burning, but cannot stop it because it falls under rules to "protect freedom of expression".
Protesters burned down the Swedish embassy in the Iraqi capital Baghdad last week in response to the sacrilege, angering billions of Muslims. reuters Report.
A demonstration by a group called "Danish Patriots" in Copenhagen on Tuesday followed the group burning Qurans in front of the Iraqi embassy on Monday and last week. Two such incidents have happened in Sweden in the last month.
Iraq's foreign ministry on Monday called on the authorities of European Union countries to "quickly reconsider the so-called freedom of expression and the right to demonstrate in light of the Koran burning".
Turkey said on Monday it strongly condemned what it called a "hateful attack" on the Quran and called on Denmark to take necessary steps to stop this "hate crime" against Islam.
Egypt's foreign ministry on Tuesday summoned Sweden's charge d'affaires to condemn the desecration of the Quran.
"When people protest they benefit from expanded freedom of expression," explained Trine Baumbach, a law professor at the University of Copenhagen. reutersInterpreting Danish laws.
"It doesn't just involve verbal expression. People can express themselves in a variety of ways, such as by burning objects."
The organizer of Monday's demonstration in Copenhagen crumpled up a Quran and placed it in a tin foil tray next to an Iraqi flag on the ground.
Iran's Supreme Leader Ayatollah Ali Khamenei said on Saturday that those who insult the Koran should be "severely punished".
A few weeks ago, Pope Francis also condemned the burning of the Holy Quran in Sweden in June, saying the heinous act left him "angry and disheartened".
"Any book considered sacred must be respected by those who believe in it," the Pope said in an interview with the UAE newspaper. Al Ittihad,
"Freedom of expression should never be used as a means to disparage others and should not be allowed to disapprove and slander."