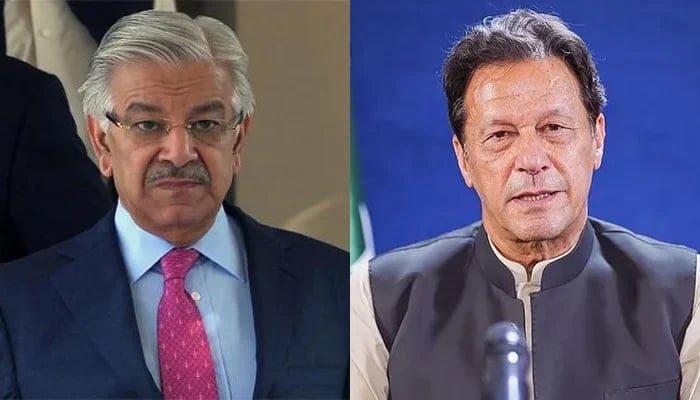 "There can be no greater betrayal than this," says Asif on The Cypher Saga.
Imran Khan violates Secret Act, compromising national security.
The former prime minister says the revival of Cipher Gate is aimed at disqualifying him from politics.
---
Defense Minister Khawaja Asif has said that former Prime Minister and Pakistan Tehreek-e-Insaf (PTI) chief Imran Khan may be disqualified from holding public office at Cipher Gate.
talking to geo news On Friday, a federal minister said the former PM used a diplomatic cipher for political purposes and could be charged with treason for using a classified document for vested interests.
"Article 6 can be invoked on the PTI chief," he said, referring to the law relating to high treason, under which an accused can be punished with death and life imprisonment.
Describing the confessional statement of former Principal Secretary to former Prime Minister Azam Khan as "significant", he said that the aide of the former Prime Minister has justified the allegations of his opponents.
Imran's top aide had revealed in a confessional statement that the then prime minister had used diplomatic ciphers sent by Pakistan's envoy in Washington last year to fabricate a narrative against the establishment and the opposition.
In a similar statement a day earlier, Law Minister Azam Khan had said that using diplomatic ciphers for political purposes could lead to a jail term of up to 14 years for the PTI chief.
Sources said Azam, who has been "missing" since last month, has recorded his statement before a magistrate under CrPC 164, but there is no information about his whereabouts.
Imran, who was ousted by a parliamentary vote in April last year, alleged on March 27, 2022, that Washington planned to remove him from office – and waved the cipher at a public rally to back up his claims. The US has repeatedly denied such allegations and described them as "blatantly false".
In his confession, Azam claimed that when he shared the cipher with Imran, the former prime minister was "enthusiastic" and termed the language as an "American blunder".
"There can be no greater betrayal than this," Asif said, referring to the confession that reportedly corroborated the ruling coalition's claims that the PTI chief endangered the country's national security by using classified documents for political purposes.
"National security was compromised and the Official Secrets Act was violated," Asif said.
A day earlier, Imran had termed the revival of the cipher controversy as an attempt by the Pakistan Democratic Movement (PDM)-led government to disqualify him from contesting the elections.
Addressing his supporters via video link, the PTI chief accused Prime Minister Shehbaz Sharif, Pakistan Peoples Party (PPP) leader Asif Ali Zardari and others of hatching a conspiracy to remove him from the political arena.