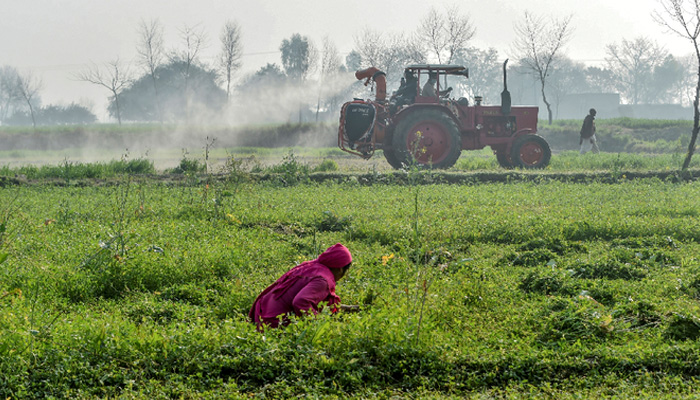 Fonegro CEO says corporate farms will be expanded to 100,000 acres.
Import-substitution farming has been a focus area of ​​the institute.
From the first trial of maize crop, 20% more production has been achieved through the initiative.
---
KHANEWAL: The defense forces on Sunday roped in state-of-the-art corporate agriculture farming in a multi-billion dollar move aimed at ensuring national food security and tapping the export market. news informed of.
Major General (Retd) Tahir Aslam, Managing Director and Chief Executive Officer (CEO) of Fonegro, a subsidiary of Defense Institutions-led Fauji Foundation, said that a modern corporate farming project has been launched to take Pakistan's agriculture to new heights.
"Our main focus area has been import-substitution farming so that domestic production can eventually replace billions of dollars of imports," he said.
As part of the Green Pakistan Initiative, a flagship project supported by the Pakistan Army, Fonegro represents a pioneering step towards fully mechanized and intelligent farming in the country.
The milestone was celebrated during a ceremony which was attended by Prime Minister Shehbaz Sharif and Army Chief General Asim Munir and highlighted its importance.
The CEO of Fonegro was speaking to reporters in Lahore on Sunday during a media tour of the 2,250-acre site of the country's first corporate farm, which is to be formally inaugurated today (Monday) by the Prime Minister and the Army Chief.
Aslam said Fonegro is developing a model that foreign investors can replicate at a later stage.
"We endeavor to expand corporate farms to 100,000 acres for cultivation of wheat, cotton, oilseed crops, soybean and sesame in various districts of the country. The Green Initiative oversees corporate farming on one million acres of land by fostering partnerships with various foreign and local players," he added.
"We have set up this platform to achieve the goal of reducing foreign dependency through increased local production. Our first test of the maize crop produced 20% more yields than progressive farmers with less use of water, fertilizer and other inputs.
"The establishment of Fongro Farm is indeed the first step towards agricultural revolution. It is a unique farming system spread over 2,250 acres in Porowal which is planned to be expanded in the next five years under a robust development plan. It is mostly a piece of barren land," he said.
Responding to a question, he clarified that he is not competing for or against small-scale farmers. Rather, he claimed, the initiative would help introduce best agricultural practices at various levels.
Manager Farms, Muhammad Zahid Aziz said that there is a need to expand the country's agriculture both horizontally and vertically with a view to increasing the area under cultivation and increasing the yield per acre.
Fonegro is targeting both of these goals simultaneously by employing resource conservation technology.
Similar corporate farming is also being started in desert and semi-desert lands in Bhakkar, Mankera and Laiya, he added.
Irrigation Consultant, Mushtaque Ahmad Gill said that high-efficiency agriculture has been the hallmark of Fonegro Corporate Farming where center pivot irrigation has made it possible to conserve up to 90% of water.
This is a stark contrast to traditional flood irrigation, where most of the water is lost before it reaches the plants.