David Beckham shared a gushing tribute for his best friend Marc Anthony the occasion of singer's 55th birthday on social media.
The former football star took to Instagram stories to shower love on his longtime bestie just days after he surprised him at Hollywood's Walk of Fame ceremony.
Dropping a throwback snap of them hugging and laughing, Beckham wrote, "Once a brother always a brother," before wishing him "Happy Birthday."
"Love ya," the Manchester United star added.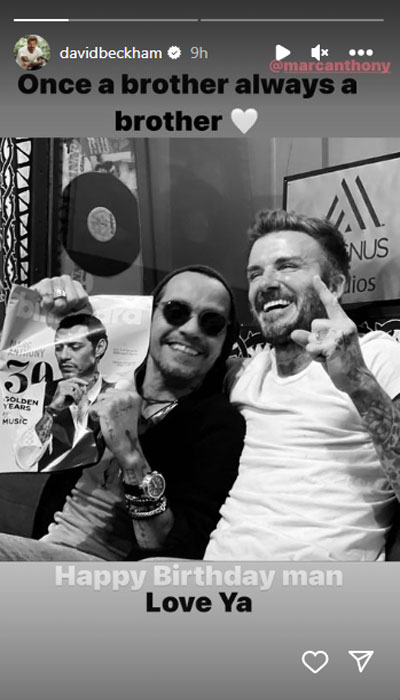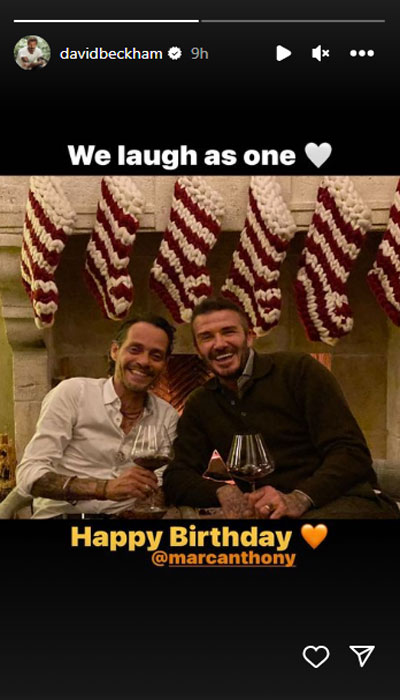 He shared another photo of them having wine together and captioned it, "We laugh as one."
Anthony was recently honoured with a star at Hollywood's Walk of Fame where David delivered an emotional surprise speech.
The singer's jaw dropped after he saw Beckham making his way to the front after his star was revealed on the most famous strip of sidewalk of Los Angeles.
Reflecting on their friendship, Beckham told everyone how he used to listen to Anthony's songs before any of his Real Madrid matches.
"Today, Marc, we celebrate you and everything you mean to all of us and to all of your fans around the world," Beckham told the audience, adding, "I'm getting emotional."