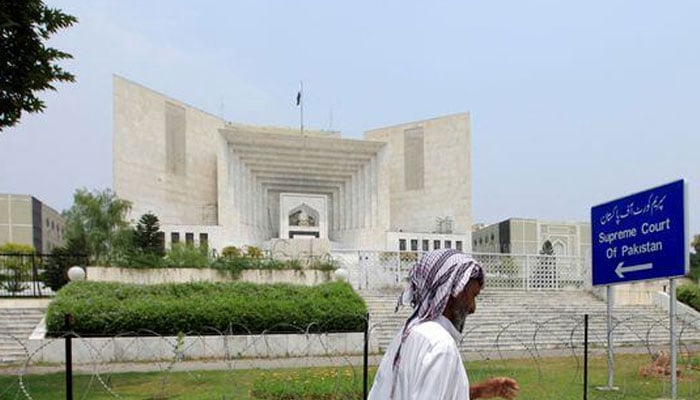 CJP Isa will review the complaints against judges.
He is also likely to address objections by fellow judges.
Justice Naqvi seeks recusal of CJP Isa and other judges.
---
ISLAMABAD: Chief Justice Qazi Faez Isa has summoned a Supreme Judicial Council (SJC) meeting on November 20 to review the complaints against apex court judges.
The chief justice's decision to call the meeting comes after complaints were received against Justices Sayyed Mazahir Ali Akbar Naqvi and Sardar Tariq Masood.
In the meeting, CJP Isa is expected to assess the filed complaints, while the SJC is likely to address objections raised by the aforementioned apex court judges concerning the chief justice himself and Justice Naeem Afghan's involvement in hearing the complaints against them.
Justice Naqvi has recently submitted his preliminary reply to a show cause notice issued to him by the SJC and raised objections over the participation of three members of commission, including CJP Isa, Justice Masood and Justice Naeem Afghan, and sought their recusal based on "bias" and other grounds.
Justice Naqvi claimed the proceedings against him with regard to misconduct are politically motivated and lack legality, propriety and transparency.
In the 18-page document, Justice Naqvi wrote: "Their participation in the proceedings resulting in a show cause notice being issued to me taints those proceedings, inter alia, with bias and makes all orders passed in such proceedings as being without lawful authority and of no legal effect."
The judge objected that CJP Isa and Justice Afghan being the chairman and member of the inquiry commission, respectively, investigating the audio leaks case against him, cannot participate in the SJC's proceedings against him.
"The [inquiry commission] proceedings are sub judice. The same alleged audio leaks which were referred to the inquiry commission are subject matter of the complaints against me before SJC. The SRO is still in the field. S.R.O. 596(I)/2023 dated May 19, 2023 is attached as Annex L. Order of the Supreme Court dated May 26, 2023, passed in Constitution Petitions No.14 to 17 of 2023 is attached as Annexure M," he stated.
Moreover, he maintained the same about Justice Masood, basing his objection on the claim that the judge is "disqualified from hearing those complaints as a member of SJC after having expressed an opinion on the complaints against me".
He said that Justice Masood's opinion expressed in a couple of letters established that "he has already formed a view in the matter".
Justice Naqvi said that Justice Masood deliberately delayed his opinion till the change in the composition of the SJC following former CJP Umar Ata Bandial.
Moreover, the judge maintained that Justice Masood is also one of the judges who are facing a complaint against him before the SJC.