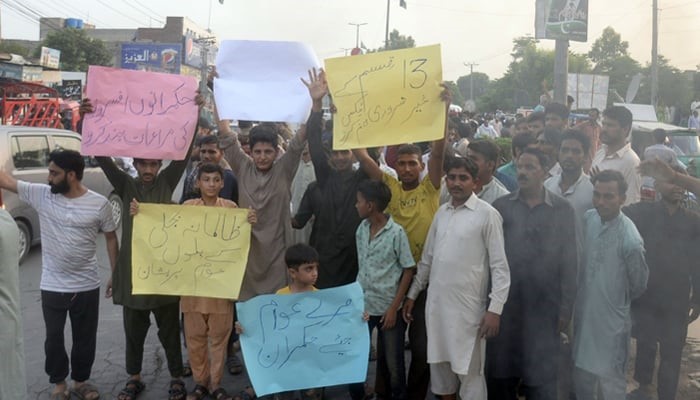 Proposal to allow consumers to pay bills in 6-month instalments.
People with electricity bills of up to 400 units are likely to benefit.
PM chairs high-level huddle over inflation, grim economic conditions.
---
Prime Minister Anwaar-ul-Haq Kakar-led caretaker government is considering allowing inflation-hit people with bills of up to 400 units to pay their dues in six-month instalments amidst inflated electricity bills.
Presiding over a cabinet meeting in Islamabad on Thursday, the premier mulled over proposals regarding relief provisions for the public in the wake of a nationwide outcry against the exorbitant power bills.
During the meeting, caretaker Finance Minister Dr Shamshad Akhtar apprised the session regarding ongoing discussions with the International Monetary Fund (IMF) as the Washington-based lender's conditions are widely considered to be the primary factor behind sky-high energy tariffs.
During the meeting, the premier was also briefed on current economic indicators along with various other issues including the need to take concrete measures against smuggling, and illegal foreign exchange rackets in light of an already weak and depreciating rupee.
Meanwhile, terming overseas Pakistanis as "assets", PM Kakar lauded the role played by overseas Pakistanis in the country's development and directed immigration and customs officials to facilitate them.
The meeting was attended by various federal ministers including Interior Minister Sarfaraz Ahmed Bugti, FinMin Akhtar, Federal Minister for Commerce Gohar Ejaz, Governor State Bank Jameel Ahmad, along with various industrialists and representatives from the business community.
The cabinet-level huddle comes in the wake of ongoing countrywide protests over skyrocketing electricity bills and soaring inflation.
Earlier today, traders across the country demonstrated against massive hikes in electricity tariffs as the caretaker government expressed helplessness to provide relief due to strict IMF conditions.
Multiple traders' associations in different cities including Rahim Yar Khan, Sukkur, Bahawalpur, Quetta, Vehari, Peshawar and others are observing shutter-down strikes to force the government to provide relief in the bills.
Political parties too have been critical of skyrocketing tariffs resulting in exorbitant electricity bills. Earlier this week the Pakistan Peoples Party (PPP) directed party workers to protest strongly and become the "people's voice".
Meanwhile, Jamaat-e-Islami (JI) Amir Sirajul Haq also called for a "peaceful protest" against high electricity bills last week. A few days earlier, Pakistan Muslim League-Nawaz's (PML-N) Khawaja Asif also took to social networking site X  — previously known as Twitter — and said that the limit of relief for consumers should be increased from 200 units to 300 units and for this, the IMF should be approached.
"The cost of more than Rs200 billion in electricity from Azad Kashmir, ex-Fata and Balochistan was not recovered and more than Rs650 billion worth of electricity was stolen in the whole country," the former defence minister said.
Last week, as a measure to tackle the prevailing energy crisis in the country, Power Division Secretary Rashid Langrial announced the ending facility of free electricity provided to grade 17 and above officers of power distribution companies (Discos).