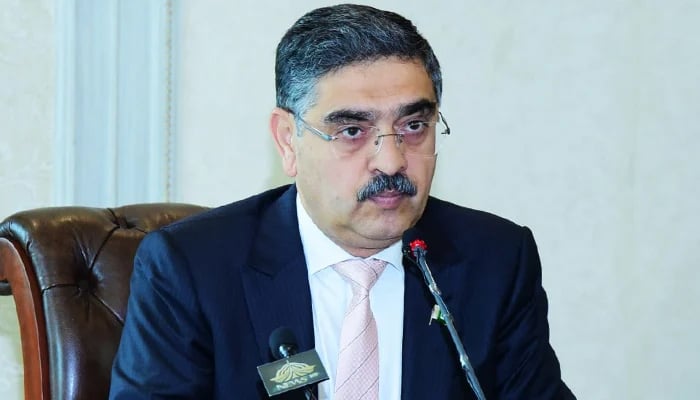 PM says they are in govt as constitutional continuation for limited time.
He says interim govt will hold polls most transparently and impartially.
Kakar says his govt will utilise all resources to address Karachi's issues.
---
ISLAMABAD/ KARACHI: Caretaker Prime Minister Anwaar-ul-Haq Kakar said that the interim setup was in power only for a limited period, with a mandate of assisting and monitoring the electoral process in the country.
The remarks came on Tuesday in a cabinet meeting in Islamabad ahead of the premier's maiden Karachi visit.
Keeping in mind the prime mandate, the caretaker government would monitor its day-to-day activities to the best of its abilities, PM Kakar said.
He told his cabinet members that they were in the government as a constitutional continuation for a limited period.
"We are not here to design the government model or structure," the prime minister said. He maintained that as a continuation of the previous government, the caretaker setup was supposed to carry on with the general policy until and unless there were any violations of rules or business.
Kakar said that the National Assembly (NA) has retired and they were waiting for the new elections, adding that Senate was still there but it could not carry out any legislation alone in the absence of NA.
The caretaker prime minister directed the cabinet members to come up with a work plan by taking briefings from their respective ministries and the agenda of the next cabinet meeting would be based on that work plan.
Kakar, who only a day before visited Jaranwala, termed the protection of minorities as the topmost priority. He apprised the cabinet of his visit and categorically stated that fanning religious hatred and extremism will not be allowed at any cost. He assured awarding exemplary punishment to those involved in the Jaranwala incident.
The meeting recommended to organise a national-level inter-faith harmony conference next week. Scholars of different religions and schools of thought would be invited to the conference.
Later, talking to the media after visiting the Mazar-e-Quaid for offering Fateha for the Father of the Nation Quaid-e-Azam Mohammad Ali Jinnah, the PM said that the caretaker government would function for a limited timeframe only to ensure a smooth conduct of the election process.
Kakar reiterated that the interim government would ensure the holding of upcoming general elections most transparently and impartially, acceptable to all the concerned quarters.
On the occasion, the caretaker PM was accompanied by Sindh Governor Kamran Khan Tessori, Caretaker Chief Minister Justice (retd) Maqbool Baqir and members of his cabinet.
In a meeting with Muttahida Qaumi Movement Pakistan (MQM-P) delegation, the caretaker PM assured them that the government would utilise all possible resources to address the issues faced by Karachi.
The MQM delegation drew the PM's attention towards the issues related to the delimitation of electoral constituencies in Karachi and the shortage of potable water in the city.