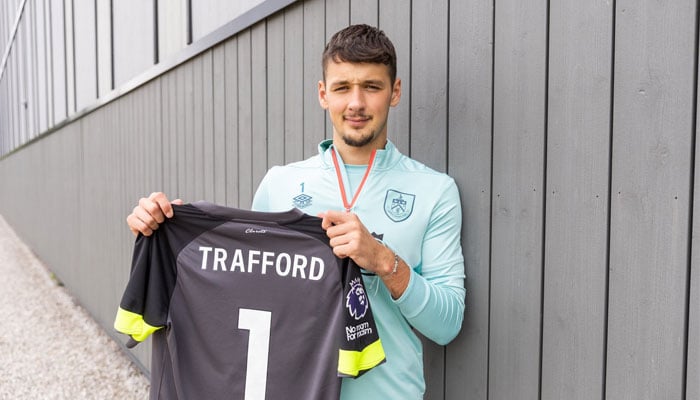 Recently promoted to the Premier League, Burnley have successfully acquired promising Manchester City goalkeeper, James Trafford, in a lucrative four-year deal worth £19million including add-ons.
This significant signing has set a new club record for Burnley, surpassing the previous highest fees paid for players Chris Wood and Ben Gibson in 2017 and 2018 respectively. The agreement also provides City with a 20% sell-on clause and a buy-back option for the player. The deal structure includes an upfront payment of £15 million with an additional £4 million for potential add-ons.
At just 20 years old, James Trafford is yet to make a Premier League appearance. However, he has honed his skills in League One over the past two seasons on loan, representing both Accrington and Bolton. Despite his limited Premier League experience, Trafford demonstrated his potential during the European Under-21 Championship, where he played a key role in England's victory. He surprisingly kept six clean sheets and effectively denied a penalty in the final moments of the tournament, helping England secure the championship without conceding a single goal.
They will face former club and defending champions Manchester City at Trafford in Burnley's upcoming Premier League opener on 11 August. The young goalkeeper's arrival is seen as a vital reinforcement for Burnley as they prepare to compete in the top flight against formidable opposition.
James Trafford is not the only goalkeeper to join Turf Moor this summer. Earlier, manager Vincent Kompany secured the services of goalkeeper Laurence Vigouroux from Leyton Orient. Additionally, former City player and Kosovo international Arizenet Murić played a key role as Burnley's number-one goalkeeper last season, making 41 appearances during the club's victorious Championship campaign.
In addition to strengthening their goalkeeping department, Burnley have also been active in the transfer market this summer. Swiss forward Zeki Amdouni joined the club from Basel for an undisclosed fee, the second major signing within two days. In addition, Republic of Ireland defender Dara O'Shea was also added to the team's roster, while Jordan Bayer's loan move from Borussia Monchengladbach was made permanent in May.
With the arrival of James Trafford, Burnley aim to strengthen their squad as they prepare to face the challenges of top-flight football, seeking to make a lasting impression in the Premier League and beyond.