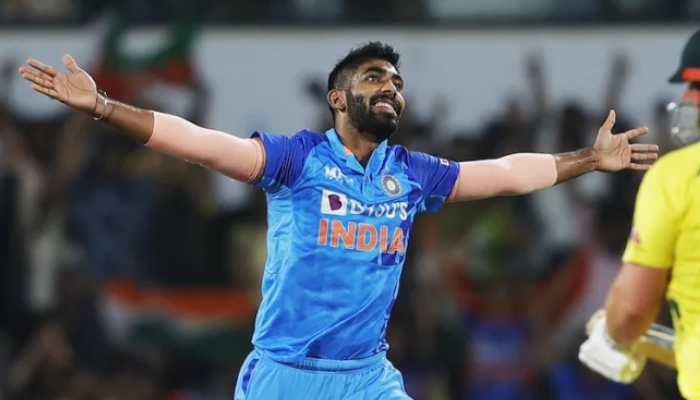 Indian fast bowler Jasprit Bumrah is set to make a comeback to the pitch after nearly a year away from the game following an injury.
Bumrah who is set to join the Indian side when they take on Ireland in a three-match bilateral T20I series starting Friday, 18 August, will also have the additional responsibility of captaining the team, a statement from the International Cricket Council (ICC) announced Thursday.
However, while Bumrah's return is huge news, the pacer said that he'll keep expectations low and enjoy the game.
When asked if Rohit Sharma and Rahul Dravid's comments on his absence add pressure on him, Bumrah maintained that he wouldn't be stressed by someone else's opinion.
"I respect their opinion but irrespective of whether they are good or bad, I don't take anyone's opinion seriously," Bumrah said about expectations from within the camp.
"I don't want to put myself under pressure. I don't put unnecessary expectations on me. I am coming back after a long time, I want to enjoy it now. I'm not thinking that I have to contribute a lot or I will change everything.
"I am not keeping too much expectations on myself. I am coming to enjoy the game and the rest of the expectations are their problem, it is not mine. My job is to enjoy the game, to prepare the best I can and to keep my best foot forward."
The pace spearhead has missed key events after his injury, including the ICC Men's T20 World Cup 2022 and the World Test Championship final, along with some bilateral games, but Bumrah has confirmed that he has no restrictions and will be able to bowl full tilt in a much-needed relief for fans ahead of the ICC Men's Cricket World Cup in October-November.
"You have to respect your body and give it time to recover. But what it does is makes you hungry," he said in a press conference ahead of the first T20I against Ireland.
"I understood the moment my body recovered, I could do that little bit extra. I'm not holding back. I have had many net sessions. Not just at NCA even back home with the Gujarat team. I have no restrictions. The body feels good."
Bumrah stressed that he remained positive throughout the rehabilitation period and was confident of coming back strong.
"When your injury takes it becomes frustrating at times. But instead of having self-doubts and thinking that I won't be able to come back.
"I respected my body. I never thought that my dark days are over or I will not be able to come back because I never thought about the future. I was looking for solutions and once the solution came, I was feeling very good that I will come back and that I will work my way up."