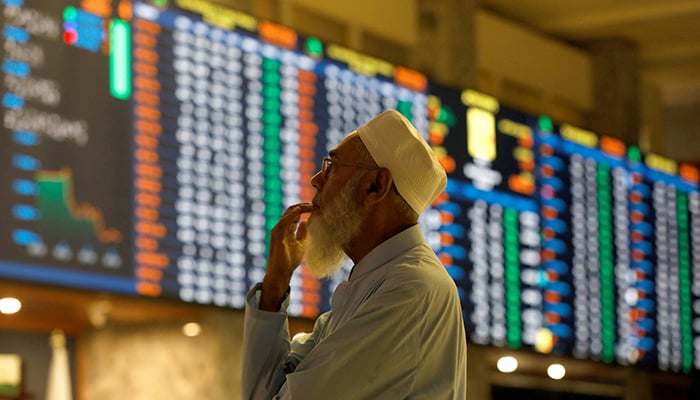 KARACHI: Shares on the Pakistan Stock Exchange (PSX) soared on Tuesday and crossed the 45,000-mark for the first time in 14 months after the cash-strapped country received $2 billion from Saudi Arabia.
The market gained momentum with the benchmark KSE-100 index adding over 500 points during intraday trade. At around 12:24 pm, the index was up 555.18 points, or 1.24%, at 45,140.30, higher than its previous close of 44,585.12.
Fitch credit rating agency also on Monday upgraded Pakistan's long-term foreign currency issuer default rating to CCC from CCC-, a positive sign for the country battling the worst economic crisis.
"Market optimism has been strengthened by reports of Saudi funding, Fitch credit rating upgrade and lack of any hurdles in last weekend's IMF talks with political parties," said capital markets expert Saad Ali. geo.tv,
The analyst also predicted that the market would see a rise in the points throughout the week.
The rating agency said in a statement that the upgrade reflected the country's improved external liquidity and funding conditions following a staff-level agreement with the International Monetary Fund (IMF), but warned that the fiscal deficit still remained wide.
The Saudi influx came after Islamabad signed a short-term IMF deal on June 30 under a standby arrangement that would disburse $3 billion over a nine-month period, subject to approval by the IMF's board, which met on July 12. is having a meeting.
Multilateral and bilateral funds were a major stumbling block in the way of Pakistan's deal with the IMF – which stalled for more than nine months and ended.
The SBA now provides relief to the nation to avoid a sovereign default, and helps the government streamline fiscal policies.
talking to geo.tvTahir Abbas, head of research at Arif Habib Ltd, said market sentiment has been generally positive since the IMF deal, but today's rally can be attributed to Saudi inflows.
"Tomorrow there will be a meeting of the IMF board; Pakistan may get up to $1.2 billion from the IMF; market sentiment will be positive in coming days," he said.
With skyrocketing inflation and foreign exchange reserves barely enough for a month of controlled imports, analysts say Pakistan's economic woes could turn into debt default in the absence of an IMF bailout.
With the IMF agreement, Pakistan can now unlock other external financing.
Fitch said local authorities expect $25 billion in gross new external financing in fiscal 2014, while $15 billion in public debt maturities, including $1 billion in bonds and $3.6 billion to multilateral creditors.
The South Asian nation has also seen severe political uncertainty since former Prime Minister Imran Khan was ousted through a no-confidence motion in April last year.
To ensure that the program's measures are implemented before the October elections, the lender's team met with all mainstream political parties to garner support and consensus for the SBA.
Khan's Pakistan Tehreek-e-Insaf said it has given its support for the accord.
---
More to follow…